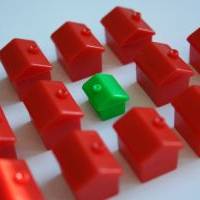 Over a million mortgage holders will see a huge hike in their payments over the coming months, bringing further misery to cash-strapped households.
A whopping 850,000 Halifax customers will pay a typical £200 extra each year from May as the UK's largest lender is raising its standard variable rate (SVR). Thousands of others who are yet to revert to the SVR will also pay the higher rate when the time comes.
The SVR is the rate most mortgages switch to after an introductory period.
Meanwhile, 200,000 Royal Bank of Scotland mortgage holders with an offset mortgage will see their standard rate rise too. Some were hit at the start of this month, while others will see jumps from May.
As mortgage conditions are tough, some brokers say many will be trapped on the higher rates, unable to switch to a different deal.
There has been no change in the 0.5% Bank of England base rate for three years, but both banks say their running costs have leapt over recent months.
Mortgage guru Ray Boulger, from broker John Charcol, predicted last week Halifax would raise its SVR after it warned 40,000 of its customers, they faced the possibility of hikes (see the Halifax SVR threat MSE news story).
Halifax hike
Halifax will raise its SVR from 3.5% to 3.99% on 1 May for those who took out a mortgage pre- 4 January 2011.
Everyone else would already revert to a 3.99% SVR though it is unlikely they are paying that yet.
The lender says homeowners with the average £67,500 SVR balance will pay an extra £16.40 a month on a repayment mortgage, or £197 a year.
On a £150,000 mortgage, around the nationwide average, the hike works out as £480 a year.
Halifax will write to customers over the coming weeks informing them of the rise.
A Halifax spokeswoman says: "The increase to the rate reflects the fact raising money through savings and in the wholesale markets is very expensive by historical standards.
"The cost of raising retail deposits to fund mortgages has risen considerably over the past few years."
RBS rise
Customers with an RBS offset mortgage saw the standard rate rise from 3.75% to 4% last Thursday.
This represents a £250 annual hike in payments on a £150,000 repayment mortgage.
Homeowners with the RBS One Account, which is also a type of offset mortgage - where any savings reduce the interest paid - will see the same increase on 1 May.
An RBS spokesman says: "Over the last year the cost of funds at which we need to borrow to fund our mortgage commitments has risen considerably.
"We have absorbed the cost during this period but have now decided to pass on some of this increase."
Technically, this rate is not an SVR as there was never an introductory period to either RBS deal, but it is essentially the same thing.

What can you do?
Affected Halifax and RBS customers are free to leave, as none will be subject to an early repayment charge on their standard mortgage balance.
Both banks stress their rates are still low compared to the typical SVR, though better deals could be available for those who have a good credit record and who have enough equity in their property to switch to a different home loan.
However, it is tough to get a mortgage right now.
David Hollingworth, from broker London & Country, says: "Many will be stung into action and take the opportunity to shop around for cheaper options available elsewhere, effectively voting with their feet.
"Others of course will not have so many options available due to their equity position and may have to swallow the rate rise."