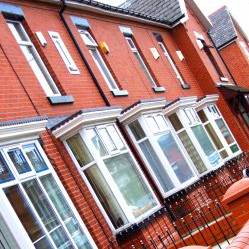 House prices have recorded a monthly fall of 1%, as the ending of a first-time buyer stamp duty concession is likely to have dampened the market, a study said today.
Prices fell year-on-year by 0.9% in March, the first annual drop in six months, to reach £163,327 typically, reflecting the expected slowdown as the two-year stamp duty holiday came to an end last week, Nationwide says.
Key Points
House prices fell 1% in March
Prices fell year-on-year by 0.9%
Typical house price is now £163,327
Its report predicts prices will head sideways or downwards over the coming year as the weak economy acts as a continuing "drag".
This contrasts with the previous month where prices rose by 0.6% in February. The Halifax house price index has also yo-yoed over recent months.
Stamp duty holiday effect
Estate agents and lenders had reported a surge in first-time buyer interest in recent months as the stamp duty deadline approached, but fears were raised that this would be followed by a dip once the 1% duty for first-time buyers on properties worth between £125,000 and £250,000 was reinstated.
Around four in 10 first-time buyers have benefited from the concession during the two-year period, according to recent research.
Nationwide says it is difficult to estimate how much the policy had boosted the market, as it is not known how many sales would have otherwise taken place.
But the report says: "Nevertheless, the reintroduction of stamp duty is likely to pose a further headwind to housing market activity in an already challenging environment.
"Based on our estimates, around 65% of first-time buyers will pay stamp duty in the coming fiscal year, generating nearly £600 million of tax revenue.
"In 2012-13, we estimate that around 100,000 first-time buyers will pay stamp duty on properties between £125,000 and £250,000, adding an average of around £1,800 to purchase costs relative to the last fiscal year."
Nationwide says the 7% stamp duty rate imposed on £2 million homes in the recent Budget is also likely to have an effect on the market "albeit a modest one".
London estate agents have already been reporting some sales grinding to a halt as a result of the announcement.
Regional variations
Nationwide also released figures for the first quarter of this year, showing that seven out of the 13 UK regions recorded year-on-year price growth.
The north of England saw the strongest growth in the first three months of this year, with a 0.6% rise taking the average house price to £114,828. Wales saw the biggest drop, with a 3.1% dip dragging typical prices to £129,682.
Meanwhile London, which recorded the strongest year-on-year price rise at 2.3%, saw a 0.7% dip in house prices over the quarter, taking average prices to £293,375.
The report says current rates of building activity are below what is needed to meet future demand as the number of new households increases.