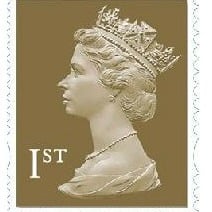 First and second class standard stamp prices are to rise by 14p from next month to record highs of 60p and 50p respectively, Royal Mail announced today. You can beat the hikes by buying now.
Prices will rise from the current 46p and 36p from 30 April, while the cost of posting large letters will increase from 75p to 90p for first class and 58p to 69p for second class.
The increases followed a decision by regulator Ofcom to give Royal Mail the freedom to set its own rates.
Royal Mail also announced that millions of people on low incomes will be able to buy up to 36 stamps for Christmas at the current price.
Ofcom announced earlier this morning it would cap the price of standard second class letters at a maximum of 55p, a figure which will rise in line with the consumer prices index (CPI) measure of inflation each year.
There is no cap on first class stamps, though Ofcom expects the cost will be held back by the second class cap, as if first class stamps cost too much, few will buy them.
Royal Mail will also be able to set its own prices for the majority of its products, including most business mail.
Ofcom has decided to extend price capping to second class small parcels and large letters up to 2kg in weight. A consultation on the level of the cap will begin next month and is expected to be concluded by the summer.
The regulations will apply for seven years.
Buy stamps now
Martin Lewis, MoneySavingExpert.com creator, says: "With huge price hikes likely to push the envelope, the right move is to bulk buy stamps now.
"Provided they say '1st' or '2nd' rather than a price, they're effectively inflation proofed as they're still valid after prices go up.
"So bulk-buy now, even for Christmas card sending for 2015, and you're quids in, as once prices go up they're very unlikely to come down.
"Plus, until 10 April, Superdrug is offering books of first class stamps at 5% off, so it's worth snapping them up now to smash the price rise a long time ahead."
Stuart McIntosh, from Ofcom, says: "Ofcom's decisions are designed to safeguard the UK's postal service, ensuring it is sustainable, affordable and high-quality, to the end of the decade and beyond.
"The measures ensure that Royal Mail's products remain affordable for vulnerable consumers and small businesses."
Christmas stamps scheme
Royal Mail says it will launch a scheme this Christmas to enable those on low incomes to buy up to 36 standard size first or second class stamps in one go at today's prices. You can only take up the offer once so if you only buy 12 on one visit, that's it.
Those on pension credit and employment and support allowance (or incapacity benefit) will be eligible to buy up to three books of 12 stamps from any Post Office branch from 6 November, until the last posting date before Christmas for first class stamps.
Royal Mail says those eligible will need to provide evidence that they are in receipt of benefits.