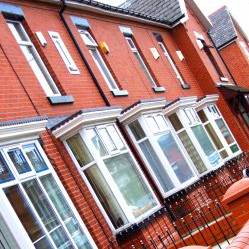 A rush of first-time buyers trying to beat a stamp duty deadline gave the housing market a boost last month, a report says.
New buyer enquiries edged up in March, with 9% more estate agents reporting increases rather than decreases in demand, the highest reading in almost two years, the Royal Institution of Chartered Surveyors (Rics) says.
A balance of 10% of surveyors reported falling prices in March, the least negative reading since June 2010, as prices continue to edge downwards in all regions except London.
The market saw an upturn in activity as the 24 March deadline for the end of the stamp duty-free period for first-time buyers on properties worth under £250,000 approached.
Expectations for future sales remain positive, with a balance of 20% of surveyors expecting sales to increase over the coming three months.
Increase in market activity
Rics chief economist Simon Rubinsohn says: "Demand saw a slight boost in March as many first-time buyers looked to beat the stamp duty holiday deadline.
"There has been a gentle increase in activity across the market in the early part of the year but it remains to be seen whether this can continue, given the changes in the Budget and ongoing problems affecting the economy.
"London continues to outperform the rest of the UK in terms of prices but, interestingly, the north west of England did see an increase in activity in March."
Estate agents have criticised the Government's decision to impose a 7% stamp duty rate on properties worth over £2 million, saying it will affect sellers and buyers all the way down property chains.
Predictions for future prices across the UK remain flat for the second consecutive month, suggesting that gently increasing levels of demand may be the key factor behind the more optimistic outlook.
The north of England, East Anglia and Scotland saw buyer interest drop, while surveyors elsewhere reported a steady increase. North west England saw a "notable" upturn in activity, with buyer interest reaching its highest level since the end of 2009.
The level of new properties coming onto the market generally remains "stable" with a balance of 2% more respondents reporting a rise in instructions.