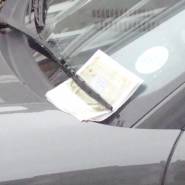 Local councils handed out an increased number of parking tickets last year, despite cutting back on traffic wardens, according to figures out today.
There were a total of 6.8 million tickets issued in 2011 – one every 4.6 seconds, statistics show.
Key Points
6.8 million parking tickets issued in 2011
One in four tickets disputed
Appealing had a 39% success rate, down from 47% in 2010
Money raised totalled more than £234 million, according to the figures obtained by insurance company Swiftcover.com following a Freedom of Information request.
One in four tickets was disputed, with those appealing having a 39% success rate.
The number of wardens or civil enforcement officers (CEOs) fell from 3,882 in 2010 to 3,693 in 2011.
Regional fines
Outside London, the largest number of fines handed out last year was by Liverpool City Council (more than 146,000), ahead of Manchester City Council (more than 138,000) and Birmingham City Council (nearly 133,000).
On average, 74,257 fines were handed out by each local council last year, compared to 72,367 in 2010.
The busiest CEOs were found in Liverpool, handing out an average of 2,616 parking fines each in 2011, followed by those in Coventry (2,220) and Worcester (2,125). But in Sunderland, CEOs issued an average of just 296 fines each.
As a result of the higher numbers of fines, there was also an increase in disputes by motorists. In 2010, 1,677,043 parking ticket disputes were lodged with local councils and Transport for London, but in 2011, the figure rose to 1,758,571 – or 146,547 each month.
However, the success rate of these challenges fell from 47% (780,710 tickets overturned) in 2010 to 39% (683,218 tickets overturned) in 2011.
Success rates in disputed cases vary dramatically by each local council, from as little as 11% in the City of Bradford, to 72% in Chichester in West Sussex. A total of 36% of Manchester motorists who disputed a ticket were successful while 41% of challenges were upheld in Birmingham.
Motorists shouldn't be 'cash cows'
Robin Reames, chief claims officer at Swiftcover.com, says: "Shortage of parking has become a huge issue in towns and cities across the UK in the past five to 10 years. However, this doesn't excuse illegal parking."
Local Government Minister Bob Neill says: "There is no excuse for town halls using parking fines and motorists as cash cows. There are plenty of other ways for councils to raise extra income or make savings like better procurement and sharing back-office services.
"We want to see councils use parking to support the high street and help their local shops prosper. That's why we have ended the last Government's requirements to limit spaces, push up parking charges and encourage aggressive parking enforcement."