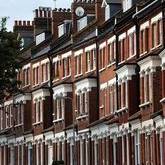 House prices have dipped further amid the "soft" market, recording declines in four months out of the last five, lender Nationwide says today.
The 0.2% monthly drop in April follows a steeper 1% fall recorded the previous month, meaning the average UK house price stands at £164,134, the building society says.
Key Points
House prices fell 0.2% in April
Average house price stands at £164,134
Prices remain 0.9% lower than a year ago
Prices remain 0.9% lower than a year ago, a figure unchanged from March, and the market is likely to remain "subdued" over the next 12 months as people stay cautious about the state of the economy, its report says.
It suggests that much of the recent softness in the market is likely to be due to the ending of a stamp duty concession for first-time buyers.
It says a rush of buyers to complete deals before the concession ended in March had the effect of bunching up sales which would have otherwise taken place later this year.
Around four in 10 first-time buyers have benefited from the concession during the two-year period it was in place, according to recent research.
'Significant price rises unlikely'
Robert Gardner, chief economist for Nationwide, says: "Much of the recent softness in measures of housing market activity and house prices is likely to relate to the expiry of the stamp duty holiday in late March.
"This provided a temporary boost to house prices in early 2012 as buyers brought forward purchases that would otherwise have taken place later in the year."
He suggests the effects of this will fade in the coming months, but warns the "challenging" economic backdrop means significant price rises are unlikely in the near future.
The report says the recent return to recession is likely to undermine "fragile" confidence even further and discourage consumer spending.
Although the UK economy is set to pick up during the second half of this year, it will be some time before the "feel good" factor filters through to squeezed households, the study warns.
The report says: "Housing market activity is also likely to remain subdued, with prices showing little growth or moving modestly lower over the next 12 months."
Tightening mortgage criteria
Borrowers are also facing tougher hurdles to getting a mortgage in the first place.
Availability is expected to decrease in the coming months as lenders tighten their borrowing criteria, something which has already triggered a fall in the proportion of mortgages being approved by lenders.
Bank of England figures showed yesterday that the number of mortgage approvals for house purchase rose by 1.5% in March but remained firmly below the previous six-month average.
More than a million home owners saw the cost of their repayments go up this week as lenders pushed up rates, blaming the weak economy and the increased cost of funding a mortgage.