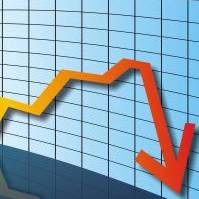 The double-dip recession is deeper than originally feared, with revised figures today showing a sharper decline in the economy in the first three months of 2012.
Gross domestic product (GDP) shrank by 0.3% between January and March, the Office for National Statistics (ONS) says, down from a first estimate of 0.2%.
Key Points
Recession deeper than feared
GDP shrank by 0.3% between January and March
First estimate suggested 0.2% drop
Worse-than expected business at the nation's builders caused the tumble, with construction output falling 4.8%, down from a drop of 3%, the steepest decline in 11 years.
The second estimate, which could still be revised later, means the UK is in a technical recession – defined as two quarters of decline in a row – following a 0.2% fall in the final three months of 2011.
The downward revision will heap more pressure on the Government, and fuel criticism that Chancellor George Osborne's austerity measures are choking off the recovery.
It will also dash hopes that the figures could be revised upwards, possibly into positive territory, after some economists cast doubt on their accuracy.
The second estimate also reveals a slowdown in household spending, which increased by just 0.1% in the first quarter, compared to 0.4% growth in the final quarter of last year.
Household spending declined for three quarters in a row last year and has been hit by high inflation, sluggish wage growth and soaring unemployment.
But Government spending went up by 1.6%, the biggest rise since the first quarter of 2008, driven by spending on health and defence.
The services sector, which accounts for some three-quarters of the economy, saw unrevised growth of 0.1%, after a decline of 0.1% between October and December last year.
'Recession was hard to avoid'
Economists and business leaders have warned a technical recession will hit confidence and could cause businesses to rein in spending at a time when they are being encouraged to invest to stimulate growth.
But the current downturn is expected to be nothing like as severe as the previous recession of 2008/09, which spanned more than a year.
Downing Street says it was always going to be difficult for the UK economy to grow with much of the rest of Europe in recession.
"What the figure confirms is that it is a very difficult economic situation and we will take time to recover from the biggest financial and debt crisis in our lifetimes," the spokesman says.
"We have always made clear – and the Chancellor said in his autumn statement – that if the rest of Europe doesn't grow it would prove hard to avoid a recession here in the UK.
"We cannot be immune from what is happening on our doorstep."
Shadow Chancellor Ed Balls says the figures show the Government should change course and take action to promote growth.
"What more evidence can David Cameron and George Osborne need that their policies have failed and that they now need a change of course and a plan B for growth and jobs?" he says.
"It's now clear that this is a recession made in Downing Street by this Government's failed policies.
"Despite all the problems in the euro area, France, Germany and the eurozone as a whole have so far avoided recession and only exports to other countries stopped us going into recession a year ago.
"The result is that Britain is now in a weaker position if things get worse in the eurozone in the coming months."