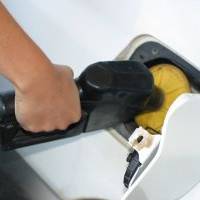 The price of petrol at the pumps is continuing to fall and should dip even further soon, the AA says.
Although diesel is also cheaper, it is still "stubbornly high" compared with the rest of Europe, it adds.
Key Points
AA predicts petrol prices to fall further
Average petrol price now 132.65p a litre
Average price of diesel is 138.10p a litre
Average petrol prices in the UK are now 132.65p a litre – almost 10p lower than the record 142.48p in mid-April.
The average price of diesel is 138.10p, a litre compared with the peak figure of 147.93p.
The AA says a two-car family is spending £20.87 less on petrol a month than in mid-April, while the cost of filling an 80-litre commercial van's tank has fallen £7.86 in the past two months.
It adds that falls in wholesale petrol prices in north-west Europe "should bring pump prices down even further".
Falling wholesale prices
AA public affairs head Paul Watters says: "The fall in the fuel price, particularly petrol, has continued into June at a higher rate – in part due to pressure from the AA which demanded fuel forecourts fully reflect the significant falls in wholesale fuel prices.
"This was matched by the Transport Secretary (Justine Greening) urging greater price transparency."
He adds: "However, diesel prices in the UK remained stubbornly high this spring compared to other EU countries, which reflected wholesale price parity between petrol and diesel fuel. It is this fuel that drives the cost of services and transporting goods – having a significant impact on inflation.
"The Chancellor's planned duty rise in August, which will increase pump prices by around 3p, will increase the inflation rate and put more pressure on hard-pressed families and business in the UK once again."