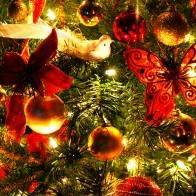 Victims of the Farepak collapse will be paid back about half the money they lost after the Christmas savings business went bust.
Liquidator BDO says it will make payments to Farepak's 114,000 creditors, including customers and agents, at the end of next month.
Key Points
Farepak customers to get half the money lost back
Should be paid at the end of August
The Christmas hamper business collapsed in 2006
While this will mark the end of their ordeal, customers will still miss out on half the £37 million owed in total.
Many hurt by the collapse of the Wiltshire-based company were pensioners or on low incomes.
What's being paid?
BDO will pay about 32p in the pound, which is partly made up of the £8 million which Lloyds Banking Group announced it was making available to former Farepak customers last week. Halifax/Bank of Scotland (Hbos), part of Lloyds, was Farepak's bank.
When added to the 17.5p in the pound, which was given to former Farepak customers in 2006 by the Farepak Response Fund charity, customers will have received a total of approximately 50p in the pound, BDO says.
So if you've got a claim of £100, you'll get roughly £32 back in August to add to the roughly £17.50 you would have received in 2006, taking your total to £49.50.
Just under 6,000 customers who paid money to Farepak on or after 11 October 2006 would have already received an additional cheque with more cash in 2009.
This group will get less than others as a percentage of their original claim this time to account for the extra payment, but will still end up with the same approximate 50p in the pound overall settlement.
How will the money be paid?
BDO will send the money by cheque. People who have changed address since they were a customer will need to notify its Claims Management Team. See the Farepak website for the address.
Suzy Hall, national co-ordinator for campaign group Unfairpak, hailed today's announcement as a victory.
She says: "To think we started in 2006 with zero. To finally be able to pay out an extra 32p is a fantastic result.
"Never in my wildest imagination did I think we would get back 50p in the pound. Unfairpak believe we have won."
Judge blamed Hbos
Justice Peter Smith had pointed the finger at Farepak's bankers during a hearing at the High Court in London last month, after a Government companies' watchdog abandoned attempts to penalise former Farepak bosses by having them barred from being company directors.
Hbos, which has now been absorbed into Lloyds Banking Group, defended its actions after the judge accused it of taking a "hardball approach" and suggested the bank should "seriously consider" adding to the £2 million it put into the distress fund in 2006 for Farepak customers.
Lloyds said last week it had decided to make an ex-gratia payment of £8 million "in the light of recent comments from Justice Smith" and acknowledged it had "wider responsibilities" to the community.