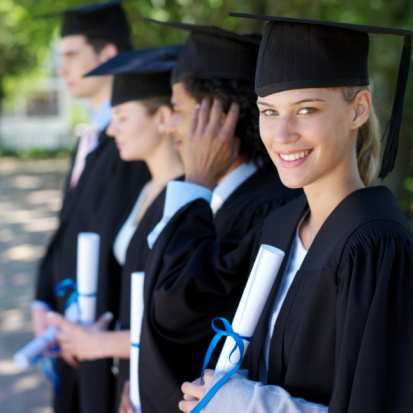 Starting salaries for graduates are set to rise by 6% to an average of £26,500, while the jobs market is starting to stabilise, according to new research.
A study among 215 employers across the UK found that three years of graduate salaries remaining stable will come to an end.
Key Points
Graduate starting salaries to rise 6%
Will take the average salary to £26,500
But there are 73 applications for every job
The number of graduates chasing every vacancy has also fallen from last year's high of 83, although there are still 73 applications for every job.
The Association of Graduate Recruiters (AGR) says its six-monthly survey shows that vacancies for graduates are predicted to fall by 0.6% in the coming months, lower than previously expected.
Employers say the quality of applications has increased.
Carl Gilleard, chief executive of the AGR, says: "It is reassuring to see that employers are investing in graduate talent.
"The significant rise in starting salaries to £26,500 will be very good news indeed to students, who are bracing themselves to take on higher levels of debt as tuition fees rise to £9,000 from September this year."
Predicted increase in vacancies
A separate study by High Fliers Research predicts an increase in graduate vacancies this year.
Despite a recruitment freeze in many government departments and agencies, graduate vacancies in the public sector are expected to increase by a fifth this year, says the report.
Jobs are also predicted to increase in accounting and professional services, investment banks and engineering.
Nicola Dandridge, chief executive of Universities UK, says: "There have been some very bleak headlines for graduates over recent years, so it is encouraging now to see real signs of recovery.
"Employers are investing in graduates which is good news for them and for current students."