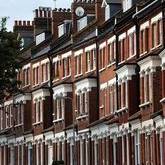 House prices are showing a "marked improvement" and are likely to remain stable during the second half of this year, a study says today.
Prices increased by 1% month-on-month in June and dropped by 0.5% year-on-year, but the annual change is a much less sharp drop than the falls seen a year ago, Halifax says.
Key Points
House prices rose 1% month-on-month in June
Average house price now £162,417
Prices likely to remain stable this year, says Halifax
Its latest study takes average house prices to £162,417, and Halifax suggests some recent improvements in the employment market and historically low levels of mortgage payments may have helped keep prices up.
Yet consumers can be forgiven for wondering which way house prices are really going given Nationwide, in its separate study, revealed the biggest drop in house prices in June in nearly three years last week.
According to the building society, prices slipped 1.5% year-on-year, the biggest fall since August 2009, while prices also showed a 0.6% month-on-month fall.
House prices to remain stable
But the Halifax data shows a different picture. Halifax housing economist Martin Ellis says: "There has been a marked improvement in the annual rate of change over the past 12 months.
"A year ago, in May 2011, house prices were falling at an annual rate of 4.2%. In contrast, there has been broad stability recently with the annual rate between 0% and minus 0.5% in each of the past three months."
He adds: "We expect little change in prices and sales over the remainder of the year, provided that the UK's economic outlook does not deteriorate significantly."
The study says prices have continued to fluctuate on a monthly basis, with an even number of falls and rises in the past 12 months.
Overall, the number sales in April and May combined were 13% lower than in the preceding two months. But sales in April and May were 2% higher than in the same period a year earlier. Halifax says this suggests the underlying rate of market activity has not declined.
Increasing mortgage rates
Lenders, including Halifax, have raised their mortgage rates for both new and existing borrowers in recent months, blaming the weak economy and the increased cost of funding a mortgage.
The Bank of England has also said it expects lenders generally to tighten their borrowing criteria in the coming months, making it tougher for people to get a mortgage, particularly those with lower deposits.
But Halifax's study says mortgage payments for a new borrower remain "significantly" below the long-term average as a proportion of disposable earnings.
It says that mortgage payments for a new borrower, including first-time buyers and home movers, stood at around 26% of disposable earnings in the second quarter of this year, compared with an average of 36% over the past 27 years.
Mortgage payments have nearly halved as a share of income in recent years, from a peak of 48% in the third quarter of 2007.