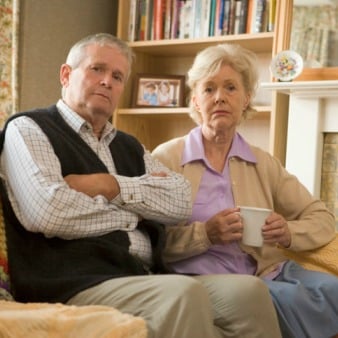 The long-term retired are having to "knock lumps" out of their nest eggs just to get by, pensioners' groups warned today, as a report found saving pots for the over-75s have almost halved in the last two years.
In summer 2010, people in this age group typically had £22,500 put aside, but this figure has shrunk to £12,998, Aviva's latest Real Retirement report found.
Key Points
Over 75's savings pots shrunk in last two years
23% have credit card debt they don't repay monthly
High living costs and low interest rates to blame
The report also highlights a "concerning" finding that almost a quarter (23%) of people over 75 have a credit card debt they do not repay in full on a monthly basis, despite the fact they are likely to have retired a decade earlier.
The typical person with credit card debt in this age group owes 128% of their monthly income, with £1,689 outstanding, the report found.
Savings being eaten away
The National Association of Pension Funds (NAPF) says that the combination of high living costs due to inflation and low interest rates has eaten away at people's savings.
Joanne Segars, chief executive of the NAPF, says: "Inflation over the past few years has made life difficult for many pensioners, especially as low interest rates shrink any income from their savings.
"Many of those who are deep into their retirement are having to knock lumps out of their nest egg to get by. It's a very difficult and worrying position to be in, and many could see their savings run out.
"Sadly, the UK is sleepwalking into a crisis when it comes to its old age. We have to get more people saving into a workplace pension from as early as possible, and a simpler, more generous state pension will also help."
Over-55s' savings increase
The Aviva report says that across the over-55 age group, savings had increased slightly from spring this year, from £14,198 to £15,756.
But the study says the increase was down to a jump in savings pots at retirement, as people used tax-free sums from their annuities to boost their savings. This was followed by a decline in the assets of people who are older, and have been forced to eat into their savings.
More than four in 10 people (42%) said they are not saving anything on a monthly basis, a slight increase on the previous quarter.
Overall, people aged over 55 with non-mortgage debt managed to reduce what they owe over the quarter, to £22,401, compared with £24,827.
Recent studies have suggested people have been using their savings to pay down their debt rather than take out new loans amid uncertainty over the economy and poor returns on savings following three years of record low interest rates.