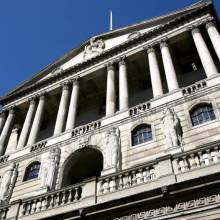 The Bank of England kept interest rates on hold at 0.5% today, despite growing pressure for more emergency support to aid the UK's faltering economy.
But there is no extra quantitative (QE) easing this month, after policy-makers pumped an extra £50 billion into the economy in July.
The Bank's monetary policy committee (MPC) hopes existing measures such as last month's QE - which took the total to £375 billion - and this week's launch of its Funding for Lending scheme will be enough to lift the UK out of its double-dip recession.
But a sharper-than-expected 0.7% decline in output between April and June and figures yesterday showing the worst manufacturing performance in three years suggest storm clouds from the eurozone crisis are hitting the UK.
The MPC, chaired by Bank governor Sir Mervyn King, has considered cutting rates even further below their current record low levels.
Economists believe that the move was also discussed today, but the MPC continues to favour quantitative easing as it battles to fix the UK's economy. Funding For Lending offers loans to banks and building societies to encourage them to offer new deals to customers.
Anna Leach, the Confederation of British Industry's head of economic analysis, said: "With the latest extension of QE launched only last month, there was no great expectation for any new announcements from the MPC today.
"The Funding for Lending scheme is now up and running, which, alongside the current round of asset purchases, should provide some support to businesses.
"However, the outlook for the UK economy remains fragile, particularly in light of the disappointing official data for the first half of the year and the recent slowdown in global momentum."
The Bank's is worried a rate cut beyond 0.5% could affect banks' and building societies' ability to lend.
Lenders have assets, mainly mortgages, with interest payments linked to the Bank's rate. A reduction below 0.5% might squeeze some lenders' interest margins to the point at which they become less able to offer new loans.
In its July meeting, the Bank raised the notion that its new £80 billion "funding for lending" scheme aimed at kick-starting bank lending could lessen fears about the impact of a rate cut on the margins of lenders.