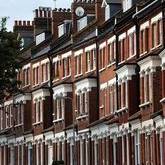 House prices fell in July following two months of increases but are expected to remain largely flat for the rest of the year, a survey says today.
The average house price was £161,094 last month, 0.6% lower than in June and the previous July, according to the Halifax House Price Index.
However, prices have been fluctuating every month and, after rises in May and June, they are still 0.8% higher than in December and roughly the same as in the summer of 2009.
The lender expects prices to remain flat over the rest of 2012 unless the economy deteriorates, with levels of supply and demand set to remain stable.
The recent fluctuation in pricing may have been affected by a rush of first-time buyers looking to beat a stamp duty holiday at the end of March, after HM Revenue and Customs figures showed an 11% fall in sales between the first and second quarters of 2012.
Halifax housing economist Martin Ellis says: "At a national level, house prices have been very stable over the past year or so.
"Looking forward, we expect little change in prices over the remainder of 2012, so long as the economic climate in the UK does not worsen substantially."
Fellow mortgage lender Nationwide reported last week that house prices fell by 0.7% last month and recorded their biggest year-on-year decline in almost three years, according to its index.