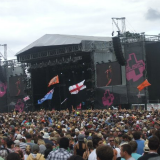 With the summer festival season in full swing, there are a number of steps you can take to protect your belongings, and your wallet, if all goes wrong.
Research from banking giant Halifax reveals the top five items lost or stolen are sunglasses, digital cameras, wallets, mobiles and shoes.
But it's not just missing items festival-goers — including those heading to Reading, Leeds and V Festival this month — need to be concerned about.
The poor summer weather has also led to some outdoor shows — such as MFest in Leeds and London's Hit Factory Live concert — being cancelled, leaving thousands out of pocket.
We spoke to the Association of British Insurers plus insurers Aviva, Direct Line, Lloyds TSB, Staysure and Tesco to get some top tips to help you sleep a little easier on the rough camp-bed floor. Here they are:
What will insurance cover?
Home insurance. Your belongings and cash are only usually protected if your policy includes personal possessions away from your home, or words to that effect. But also check the limits for single and overall items are adequate. If you lose a £500 smartphone but the maximum cover per item is £250, you're stuffed. What's more, not all policies protect electronics, such as mobiles.
Travel insurance. Even if staying within the UK, you may be covered, as travel in the UK is classed as two consecutive nights away from home. Again, check the policy actually covers your cash or belongings, and that the limits are sufficient.
The 24-hour rule. As soon as you notice something missing, report it to the police within 24 hours and get a crime reference number. If not, insurance may not pay out.
Festival tickets are not usually covered under travel or home insurance policies for loss or damage, but travel tickets usually are.
What if the festival is cancelled?
You will usually get your ticket entry money refunded by the organiser. If not, and you paid by credit card, and the ticket cost over £100, the law states card firms are jointly liable so you can contact your bank or building society for the money back.
If it costs less or you paid by debit card, then Visa and Mastercard have a similar guarantee, though this is not enshrined in law.
If you have already booked your travel and accommodation, you will need to try to cancel these with the provider in question.
If it refuses, many policies we looked at will not cover you, but check with your insurer.
If you cancel your trip due to an emergency or a bereavement, you are usually covered if the travel policy includes cancellation but you won't be covered if you simply decide not to go.
Security tips
You can also take many steps to limit the risk of robbery, which may mean you never have to make an insurance claim. Here are a few suggestions:
Check if the festival organiser has a lock-up area, which is usually free.
When asleep, keep belongings in the bottom of the sleeping bag.
When your tent is unoccupied, lock it with a padlock.
Only take as much cash as you'll actually need. If you can pay by card (not always possible) this may be safer.
Don't take unnecessary valuables. If you have a spare old phone, why not take that instead of a smartphone?
Don't flash the cash, expensive jewellery or hi-tech gadgets.
If you park your car, leave the glove box open and empty. It deters thieves.
Use a UV pen to mark as much of your property (tent, clothing, phone) with your postcode and phone number.
Write down your credit or debit card number, with the bank's phone number, in case you need to cancel the card.