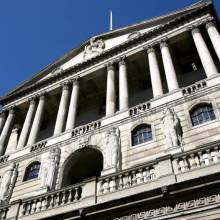 The Bank of England held back from unleashing further emergency support for the economy today, despite receiving a jolt over the health of the UK's recovery.
The Bank's Monetary Policy Committee maintained interest rates at record lows of 0.5% and held its quantitative easing (QE) programme at £375 billion as it continues to work through £50 billion of asset purchases announced in July. QE is effectively the printing of cash.
The move comes after positive manufacturing and services surveys revealed tentative signs of a recovery, but this optimism was dampened after the Organisation for Economic Co-operation and Development slashed its growth forecast for 2012.
The think-tank expects the UK will not pull out of its double-dip recession in this quarter, which will see the economy shrink by 0.7% over the previous year, compared to previous expectations of a 0.5% decline.
Most economists predict a further QE boost in November, after the current run of asset purchases is completed, while some believe a rate cut is on the cards.
Anna Leach, CBI head of economic analysis, says: "We would need only a relatively small deterioration in economic conditions to prompt a further extension of the asset purchase programme later this year."