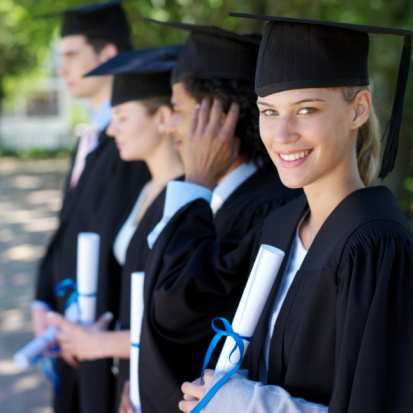 Students are highly confused by the new university tuition fees and loans system which begins this month, research published today by the Independent Taskforce on Student Finance Information reveals.
For those starting university this September annual tuition fees can jump to £9,000, compared to a previous maximum of £3,375 in England, although students won't start repaying loans until after they graduate. Even then they'll only repay 9% of everything earned annually above £21,000.
But new research has found many students don't understand the changes, which could wrongly put people off from going on to further education.
The findings reveal that of those surveyed:
63% of English 14-18 year-olds and 60% of those starting university this year were worried about how they would repay loans if they were unemployed or a low earner after university. This is despite repayments only coming into effect after graduation, provided you earn over £21,000 a year.
61% of 14-18 year-olds and 55% of September 2012 university starters are also worried about student loans going on their credit files – even though they don't.
65% of 14-18 year-olds and 33% of those starting university this autumn admit they still don't think they understand enough about the new system.
61% of 14-18 year-olds admitted the changes had made them think harder about whether to go to university, and 91% felt that if they did, they would need to work whilst at university to financially support themselves.
59% of those starting university imminently and 74% of those aged 14-18 wanted more information about the system and how it might affect them.
The survey results come as universities, schools and colleges across the country join together today for Student Finance Day, hosting events and trying to raise awareness of the changes and what they really mean for students.
'Misplaced fear'
Head of the Independent Taskforce on Student Finance Information and MoneySavingExpert.com creator, Martin Lewis, says: "The tragedy is, it's likely a good chunk of potential students are choosing not to go to university due to misplaced fear.
"Worse is, I suspect it's those from non-traditional university families who are most risk-averse and most affected.
"Part of the problem is there's too much focus on the headline amount being borrowed – a mostly irrelevant figure. What really counts is how much needs repaying and that depends solely on what's earned after university.
"You repay nothing under £21,000 and above that, the more you earn, the more you repay. Financially at least, it is effectively a no-win, no fee system."
He adds: "Whether you support the changes or not, we must ensure that we don't damage a generation of students through misunderstandings.
"That's why initiatives such as Student Finance Day are so important. Universities, schools, colleges, parents, politicians, and the media all need to come together to ensure we communicate the financial facts – not the fiction.
"After all, if young people don't understand the true cost, how can they make an effective decision?"
For full information on the new tuition fees and loans system, see our Student Loans Mythbusting guide.