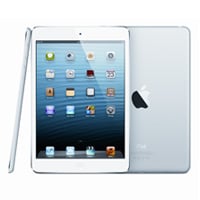 A cheaper and smaller version of the iPad will appear next week, which may appeal to those who can't afford a standard Apple tablet.
For full info on how to find the cheapest iPads, iPad 2s and iPad Minis, see the main website's iPad guide.
The iPad Mini will go on sale from Friday 2 November, along with a new full-size iPad. Both models are available to order from tomorrow.
The Mini is £130 cheaper than the standard version but still more expensive than rival models, so consider whether you really need an iPad before buying. In the usual Apple fashion, it will be available in three price brackets:
£269 for the 16GB model (£369 with 4G)
£349 for the 32GB model (£449 with 4G)
£429 for the 64GB model (£529 with 4G)
This compares with a starting price of £399 for the standard 16GB iPad, rising to £659 for the 64GB model with 4G capability. This is for the new fourth generation standard-sized iPad, which Apple calls "the iPad with Retina display". This basically means the picture quality is a touch better.
This replaces the third generation "New iPad", which is going off sale, though the latest version will sell for exactly the same price.
How cheap is the iPad Mini?
While cheaper than the standard iPad, the iPad Mini is still pricier than similar-sized tablets, as the table below shows.
iPad Mini price comparison
Tablet
Prices from
iPad Mini
£269 (16GB)
Google Nexus 7
£190 (16GB)
Amazon Kindle Fire HD
£159 (16GB)
Amazon Kindle Fire
£129 (8GB)
Versus 7 Touchpad
£100 (8GB)
Based on best prices we found
The iPad Mini is 23% lighter and 53% thinner than the latest standard-sized iPad, and also features a 7.9-inch multi-touch display, compared with 9.7 inches for the latest iPad.
Its screen also isn't as fancy as the Retina display on the latest full-sized iPad.