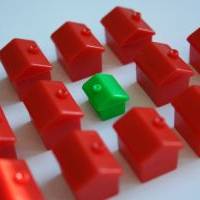 Mortgage rates have fallen in a boost to borrowers, but the top deals are only available to those with a sizeable deposit.
The average rate on fixed-rate home loans has dropped over the past few months, according to data provider Moneyfacts.
The typical two-year fixed rate is 4.44%, compared to 4.57% last month and 4.65% in August.
On five-year fixes, the average rate is 4.49%, down from 4.6% in September and 4.73% a month earlier.
Among the big recent movers, Nationwide Building Society cut its fixed rates by up to 0.4 of a percentage point last Thursday.
The fall in rates has been partly attributed to the Government's Funding for Lending scheme, which gives banks and building societies access to cheaper cash which they can lend out.
Large downpayments
To get the top deals, you generally need a big deposit of between 25% and 40% of the property value. This is between £50,000 and £80,000 on a typical £200,000 home.
For those who qualify for a low rate, the drops will help those hit by huge jumps in the cost of standard variable rate (SVR) mortgages — which most deals revert to after an introductory period — if they want to switch.
Earlier this month, hundreds of thousands of Santander customers were hit by a hike to their SVR from 4.24% to 4.74%.
Bank of Ireland, Clydesdale/Yorkshire Banks, the Co-op, Halifax and ING Direct have also all raised their SVRs this year. RBS has also raised some variable offset mortgage rates.
Five-year deals popular
David Hollingworth, from broker London & Country, says five-year fixes are currently popular among borrowers.
Among the good deals he points to are Chelsea Building Society's five-year fix at 2.99% with a £1,495 fee for those with a 30% deposit.
Santander offers a two-year fixed rate at 2.39%, requiring a 40% deposit, which comes with a big £1,995 fee. However, there is free valuation and legal work for those remortgaging, and £250 cashback and a free valuation for home buyers.
Hollingworth adds that the difference in cost between fixes and deals that track the Bank of England base rate is small at present, which has increased the popularity of fixes.
A fixed rate cannot rise during the term but trackers can. Given the base rate is at an historic low of 0.5%, there is a risk of a rise in variable deals at some point.
Hollingworth says: "With base rate unlikely to be heading anywhere in a hurry but fixed rates at record lows, many are attracted by the chance to lock into a very attractive rate and protect against rises in the future."