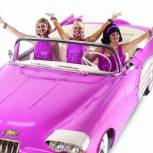 Female insurance specialist Sheilas' Wheels is likely to cut prices for male drivers but raise costs for women when new rules banning the use of gender for setting insurance prices come into force.
Today's announcement indicates what may happen to prices across the market from 21 December, when the European Court of Justice ruling comes into effect.
Sheilas' Wheels says it expects prices for younger women to rise slightly and to fall for younger men once gender-neutral insurance pricing kicks in.
The insurer targets women via its name, pink branding (see pic, right) and its advertising jingle: "For bonzer car insurance deals, girls get onto Sheilas' Wheels."
Still targeting women
Although it is now being forced to charge men and women the same prices, Sheila's Wheels maintains it will continue to target women via new features such as enhanced bag cover limits.
Men already make up 10% of Sheilas' Wheels' customers.
Sheilas' Wheels says it's likely young women aged 18 and 19 will see the biggest jump in prices. The provider stresses that as most of its customers are over 30, the majority won't see much change as prices become more equal after that age.
Younger women tend to pay less than men as they have fewer accidents, which has led to a number of specialist insurers for women cropping up.
Prices already moved
The AA says the gap between costs for young men and women is already closing.
Comparison site Gocompare predicts women could see premiums rise by £300, with those aged 17 or 18 facing potential hikes of up to £2,000 from 21 December.
Jacky Brown, head of projects at Sheilas' Wheels, says: "We have always believed the effects of this ruling will create many unforeseen consequences – not all of them positive for women."