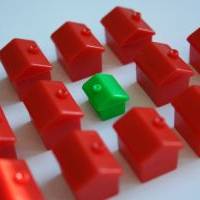 Borrowers wanting to fix their mortgage for five years can now grab the lowest-ever rate, if they have a large deposit.
The Co-operative Bank launched a five-year fix at 2.79% with a £999 fee on Friday, but you need at least a 40% deposit, which is £80,000 on a typical £200,000 property.
The Co-op's move has prompted brokers to suggest homeowners consider fixing their rate given the ultra-low deals available.
Most borrowers on a standard variable rate (SVR) — which the majority of mortgages revert to after an introductory period — are paying more than the cheapest fixes.
The average SVR is 4.88%, according to data firm Moneyfacts, though some Cheltenham & Gloucester and Nationwide customers are paying just 2.5%.
Of course, if you switch mortgage, you will need to pay fees which can easily top £2,000, so factor those into calculations.
The Co-op's new deal is the latest in a long line of mortgage rate cuts, though like the Co-op, most of the top deals are only available to borrowers with a 40% downpayment.
Average rates down
Moneyfacts says the average five-year fixed rate is 4.29%, down from 4.6% in September, while a typical two-year fix is 4.31%, down from 4.57% two months ago.
David Hollingworth, from broker London & Country, points to a two-year fix from Santander at 1.99% with a £1,495 fee as one of the top deals at that length. That deal is only available with a 40% deposit, and only available via brokers.
Many of the rate cuts have been attributed to the Government's Funding for Lending scheme, which allows banks and building societies access to cheaper cash to lend out.
Hollingworth says: "The interest rates on fixed mortgage deals are now so low that the majority of borrowers will be tempted by the stability they offer.
"Last week the [Bank of England's] Monetary Policy Committee indicated there is little chance of a base rate cut, so more borrowers are understandably interested in protecting against future rises especially as fixed rates are at such competitive levels.
"Even those with low SVRs will find some fixed deals carry little additional price implication for locking into a rate, although the level of equity remains a key factor in the available rates."