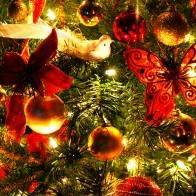 Co-op has attempted to safeguard its Christmas savings scheme to prevent another Farepak-type crisis in the unlikely event it went bust.
However, there is still doubt whether savers will be covered by the Government's Financial Services Compensation Scheme (FSCS) under the new regime.
The group will ring-fence consumers' cash from "early next year" so their festive savings are held separately from the rest of the business.
Key Points
Co-op to "protect" Christmas savings scheme
Money saved will be ring-fenced in a trust
Group hopes to prevent Farepak-type crisis
Co-op says it will be the first UK retailer to launch a Christmas savings scheme trust, protecting customers' cash.
Under the current scheme, Co-operative Food shoppers can save for Christmas via stamps in £1 denominations. £48 in stamps is worth £50 in cash.
The savings mechanism doesn't change, but if Co-op collapsed, your money isn't currently protected. It's this aspect that will change, but only for new cash saved from 2013.
What about FSCS cover?
However, it's not clear whether money will be protected if the trust provider failed, as Co-op has not yet confirmed who the trust provider will be.
Without these details, we don't know if cash will be protected under the FSCS. But Co-op says it won't set up a fund that is not "effective".
An FSCS-protected scheme provides the strongest type of cover, as savers are protected up to £85,000 per person, per financial institution.
Guy Anker, MoneySavingExpert.com news editor, says: "If you're saving for Christmas, the safest place is in an FSCS-protected savings account rather than a specific savings scheme.
"This way you'll get protection and, if you choose wisely, you'll get the best interest rate possible."
Farepak lessons
Co-op says it's been working closely with representatives of the Farepak Victims Committee, set up after the Christmas club collapsed in 2006, and hopes similar businesses will follow its lead.
Nearly 120,000 Farepak savers lost a combined £40 million though it was announced in July that victims would get back about half the money they lost.
Deb Harvey, secretary of the Farepak Victims Committee, says: "This is a massive step in the right direction and demonstrates how the Co-operative is putting the customer at the heart of its business."