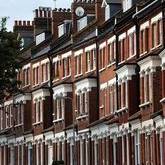 House prices have fallen annually for eight months in a row and the market will remain subdued until people start to see a continued pick-up in their finances, Nationwide said today.
The 0.9% year-on-year decrease took average prices to £164,153 in October, continuing a pattern of small annual rises or falls which started in late 2010, it says.
On a month-on-month basis, house prices rose by 0.6% in October, more than offsetting a 0.4% decline the previous month.
The society's report says the market overall continues to be relatively stable, with year-on-year house price growth remaining within either plus or minus 1.5% on all but two occasions over the last two years.
Despite figures last week showing an end to the longest double-dip recession since 1950, Nationwide says the economic recovery is likely to remain "fairly sluggish" as households try to repair the state of their finances rather than spend.
Housing market 'subdued'
Robert Gardner, Nationwide's chief economist, says: "The situation is likely to remain challenging in the housing market.
"Although the UK has been adding jobs in recent quarters, even in the midst of recession, conditions remain very difficult for households.
"Wage growth is still not keeping up with the cost of living and unemployment is still well above normal levels.
"This helps to explain why housing market activity has remained subdued, with the number of mortgage approvals still running at little more than half their long-run average."
An £80 billion Government scheme to kickstart lending was launched at the start of August, which has caused an increase in mortgage availability, although lenders have toughened their borrowing criteria, making it harder for people to take a deal out.