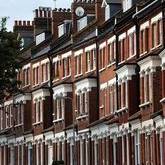 House prices slipped by 0.7% during the month of October as the weak economy continued to dampen demand, Halifax said today.
The latest decline, which contributed to a 1.7% drop compared with a year ago, took the average house price to £158,426.
Key Points
Prices fell 0.7% month-on-month in October
Prices dropped 1.7% over the year
Average price now £158,426
Prices in the three months to October were 1.2% lower than the preceding three months, Halifax says, marking the fifth drop in a row for this measure of the underlying trend.
Nationwide said last week house prices had risen 0.6% month-on-month in October, but it added prices had fallen 0.9% year-on-year, taking the average house price in October to £164,153.
House prices have been dropping on a monthly basis since June, and analysts have said distractions such as the Olympics disrupted the market.
Halifax housing economist Martin Ellis says the latest figures are evidence that the trend for a "modest deterioration" in house prices is continuing.
He says: "The weak economic background has been a key factor dampening housing demand this year.
"Recent encouraging developments relating to the level of overall economic activity and conditions in the labour market, however, may help to support demand and underpin house prices around current levels over the coming months."
House prices continuing to fall
Howard Archer, chief UK economist for IHS Global Insight, says house prices are likely to drift lower in the coming months.
He points to research from property analyst Hometrack which has shown the number of homes coming on the market increasing at a faster rate than the number of potential buyers registering with estate agents.
Archer says: "Certainly, any significant turnaround in house prices still looks some way off.
"House prices are likely to stay under pressure from persistent limited market activity, low and fragile consumer confidence, and muted earnings growth."
Recent Bank of England figures showed a modest increase in the number of mortgage approvals in September to 50,000, although the figures are still below the levels seen a year ago.
They also still remain way below the long-term average of around 86,000 approvals a month seen over the last 20 years, experts have said.