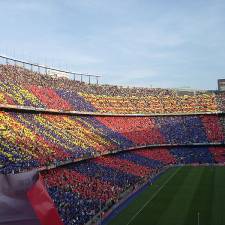 Thousands of disappointed Boots customers were told they'd won a luxury trip to Barcelona — only to be told later the chemist had made a huge gaffe by emailing all entrants to say they were successful.
Boots is giving all downhearted customers £10 to spend in-store to say sorry for the blunder.
It will hold a second prize draw on Monday for the trip, which also includes three nights in a five-star hotel and two football tickets to watch a Barcelona home match at the Camp Nou (right).
It's believed 9,000 customers entered the competition, though Boots has not confirmed this figure.
Our forum was ablaze last night with frustrated Boots customers who thought they had won after the firm sent them a congratulations email earlier in the day.
The penny dropped for many when they posted at about 1.30pm saying they'd won, only to discover dozens of similar responses appearing within minutes. Boots emailed later in the day to own up to the bungle.
'Gutted'
Forum user layla1979 said at around 1.30pm: "Just spent the last 20 minutes on the phone sharing my win! Gutted now."
Another user, loug78, added: "Oh dear... maybe I should've waited for them to get in contact before telling the WHOLE of work!"
Later in the day, frustration began to brew, although the general sentiment among users was that mistakes like this can happen.
"Not a money-grabber here, more disappointed as to how someone as big as Boots could make a monumental cock-up," said coopigeon.
Luxury trip
The prize is two return flights from London to Barcelona and three nights at the luxurious W Hotel.
Also included are two tickets to a Barcelona home game, a private balloon ride over Catalonia with champagne brunch for two people, £500 spending money and a haircut for two. The prize must be taken by July 2013.
Boots will offer 1,000 Boots Advantage Card points, worth £10 in-store, as an apology. Those who don't have its loyalty card can give the points to someone else. It will explain how to claim this in a later email.
Mark Taylor, head of Boots' customer support centre, says: "Unfortunately an email was sent in error by one of our suppliers informing some of our customers they had won. We are sorry."