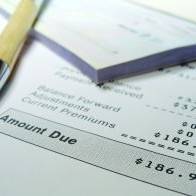 Around 152,000 current and former Northern Rock customers will receive an average £1,775 compensation due to a paperwork error.
The bank will pay out £270 million in refunded interest after sending out letters which didn't tell customers their original loan amount.
Nobody lost money from this mistake or was overcharged. But Northern Rock breached regulations by failing to disclose the loan amount on statements, so the interest payments are not enforceable.
Who is affected?
Only those with unsecured personal loans of less than £25,000 got the dodgy paperwork.
Some letters and some annual statements — sent between 2008, when the Government took over the stricken bank, and 2012 — didn't have the correct information.
All those affected are now customers of Northern Rock Asset Management (NRAM), which was nicknamed the 'bad' bank as it housed 'toxic' loans many customers could not afford to repay.
NRAM took on all the bank's personal loans in January 2010.
The 'good' part of Northern Rock, the rest of the bank, was sold to Virgin Money in January 2012.
What exactly will people get back?
Affected customers will get all interest charged between getting their letter and the problem being identified this year. They will be sent more information before Christmas.
Refunds will be taken off the outstanding loan, or will be given by cheque if the loan is paid off. This will be done "early next year".
Chancellor's statement
Chancellor George Osborne says: "Some customers with certain types of mainly unsecured personal loans were not given all the mandatory information in their statements which they were entitled to by law.
"As a result, interest payments on these loans are not legally enforceable."
Accountancy firm Deloitte will conduct an independent review into the matter.