Subway customers may not be getting the full 12 inches when they buy a footlong sandwich. After hearing reports from the US that the fast food chain could be pinching inches on its sarnies, MoneySavingExpert.com investigated and the giant fell short in our test.
This is despite Subway pledging in January that its footlong subs would do what they say on the label in terms of length in all stores worldwide.
A hungry MSE team of researcher Steve Brook, news editor Guy Anker and I headed to our nearest outlet in Shepherd's Bush, west London, yesterday to test.
We all bought footlong subs. While they were tasty, only my and Guy's subs measured the full 12 inches. Steve's was under, at just over 11 inches, as the evidence below shows (please tweet pictures of your subs that fall short to @MoneySavingExp).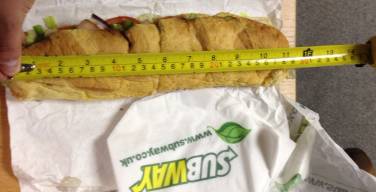 "I couldn't help feeling short-changed when I realised my sandwich had fallen short of the 12-inch mark — especially when my colleagues' had both measured the full foot," Steve says.
Subway has form, according to some. Two New Jersey men filed a lawsuit earlier this year claiming the firm's footlong sandwiches weren't clocking up the full 12 inches.
Is your footlong not a footlong?
But are British customers getting their full serving?
Given our sample size was just three sandwiches, our investigation is by no means conclusive.
So we'd like MoneySavers to tweet us snaps of their footlongs and a tape measure. Just tweet them to @MoneySavingExp.
MSE news editor Guy Anker says: "While our test was both tasty and a bit of fun, it nevertheless highlights a problem of retailers failing to provide the service or product that is advertised, which is not acceptable.
"We don't have the sample to say this is a widespread problem, which is why we want your help."
A Subway spokeswoman says: "To ensure consistency and correct length in every sandwich we serve, sandwich artists continue to be vigilant and have increased their efforts to meet customer satisfaction.
"Since our bread is soft and freshly baked in-store throughout the day, the bread can compress if wrapped too tightly or when a hefty footlong is carried on its end. All of our formulas are standardized so despite any variation in length, each footlong roll should still have the same amount of meat, cheese, veggies and toppings piled high."