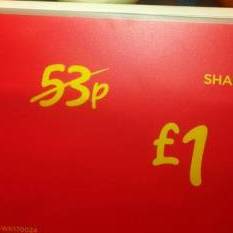 Supermarkets and stores sometimes come out with top-notch deals, but they can get it spectacularly wrong with label blunders, which can end up costing you large if you don't pay full attention.
We tweeted a questionable offer from Tesco over the weekend and asked you to tweet in pictures of pricing errors, and boy, did you trump our example.
While the top ten gallery of your pictures below is a bit of fun, there is a serious side, as gaffes may leave you overcharged, especially where buying more than one item increases the cost per item. For instance, one deal below is buy one for 28p or two for £1.50. (See our Supermarket Downshift and Supermarket Coupon guides to cut prices.)
Here's the top ten (with the person's Twitter name who sent each one in), followed by the original Tesco 'deal' that sparked this off.
Don't get caught out
While most supermarkets say they'd never deliberately over-charge customers when there's a pricing error (so you'd pay the lower of the two conflicting prices), watch out as they can make mistakes so you could still be overcharged. Here are a few quick tips:
Do the maths yourself. It's easy to not take in all the information when on a quick shop, take a step back and work out the 'deal' in your head.
Always check at the till. Make sure that the products scan at the lower price. Items may need to be scanned in separate transactions to avoid mistakenly coming up as a pricier multibuy.
Check your receipt. Don't wait until you get home to check if you have been overcharged, most mistakes can be rectified quickly in-store.