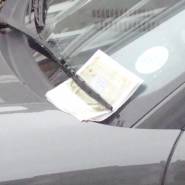 A bemused Londoner suffered harassment for months and was threatened with having goods seized from his home over £1,200 of somebody else's parking fines.
Bailiffs working on behalf of Islington Council sent letters to Martin Rankoff's east London address for nearly a year, demanding the cash. (See our How to Park Right guide for help beating tickets.)
A bailiff even visited Martin's house when his family were out. In letters and from the note left by bailiffs, they threatened to seize goods from his home.
But Martin was left baffled by the demands as no-one of the name listed on the letters lives at his address. In fact, he and his family have been at their home in Ilford for more than 16 years.
The circumstances surrounding the original parking fine are unknown, as Martin was only made aware of the charge when it had already reached a staggering £1,079.52.
His ordeal only ended after he got in touch with MoneySavingExpert.com this month and we started to investigate.
He says: "My fear is they employ these bullying tactics against people who are easily frightened, and people just pay up to get them to go away.
"I'm not the type of person to sit down and take this. Many people must be frightened when they see a judgment taken out against them and so they make arrangements to pay. It's ridiculous."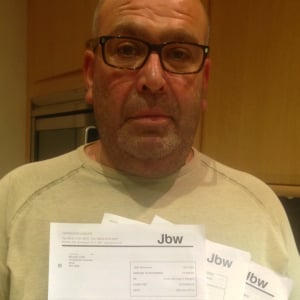 Martin with bailiffs' letters
A year of threats
Islington Council insists it originally sent demands for the parking fine to the address the vehicle was registered to, via information it received from the DVLA. But it appears on passing these details to bailiffs, somewhere along the line the road name was changed, meaning Martin's home became the target.
Even though the letters had somebody else's name on them, bailiffs still demanded goods from his property.
When Martin informed debt recovery firm JBW of its mistake, the firm apologised and promised no more action would be taken. Yet it continued to send letters.
By the time Martin received the third and final letter, the fine had risen to £1,219.96.
When Martin wrote to Civica, the body to appeal London parking tickets, it was "unable to deal with the enquiry" as he didn't have the original penalty charge notice number, as he didn't commit the offence.
Bailiffs admit mistake
Almost a year after Martin was first chased for the debt, the case was eventually passed back to Islington Council, which confirmed an error with the address had been made and that Martin wasn't the owner of the car concerned.
Islington Council wrote to Martin earlier this month to confirm the case has been closed and to apologise. This was about the time MSE got involved.
A spokesperson adds: "It's clear that correspondence from JBW – which has understandably caused Mr Rankoff concern – was incorrectly sent to his address rather than the address registered with the DVLA that we provided them with.
"We are asking JBW to look into how this mistake occurred."
JBW says it was given an address from Islington Council, but it had an incomplete postcode. It says when it ran the address through an "automated cleansing process", it returned the address with the same house number, in the same area, but obviously with a different road name — Martin's road.
It adds the case has been corrected, and a letter was sent to Martin apologising "for the inconvenience caused by this oversight".However, he says he has not received it.
Appeal against unfair parking tickets
If you've wrongly received a parking ticket from a local authority or a police force, you can appeal against it. See our Parking Tickets guide for full details on what to do.
If you wrongly get a parking ticket from a private firm — for example a retail park, hospital, supermarket or housing estate — then you've still got a chance of fighting it. See our Private Parking Tickets guide for more information.