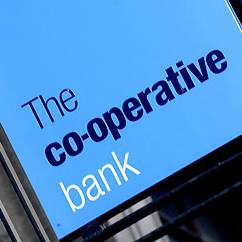 Co-operative Bank buy-to-let mortgage customers could be in line for a share of tens of millions of pounds, after an error left some unknowingly overpaying their mortgage.
The Co-op is setting aside £105 million to cover issues including mis-sold payment protection insurance (PPI) and redress for mortgage customers affected by a flaw with repayments but hasn't broken down how this cash will be split.
The bank has released very little detail on the mortgage gaffe or how much affected customers will get, but here is what we know.
What's the issue?
Affected customers were only charged interest on their first mortgage instalment rather than having to repay any of the actual mortgage balance. This means their payments after that first instalment were higher than they should have been.
The Co-op won't tell us when this issue occurred.
Who's affected?
Affected customers will have taken out a buy-to-let mortgage from the Co-op's intermediary lender, Platform, which sells mortgages through third-party brokers.
Other customers would have taken out a buy-to-let mortgage from the now-closed Optimum brand, which was part of Britannia Building Society.
Not all Platform or Optimum buy-to-let mortgage holders will be affected - this issue only affects some customers.
The bank has not yet told any affected customers, while further details of the scale of the issue remain unclear.
What will I get back?
Co-op says it's still working through the details, so it's not yet clear whether affected customers will be paid a refund of the amount they overpaid, or whether additional compensation will be paid on top of this.
Do I need to do anything?
The Co-op will be contacting the Financial Conduct Authority to discuss the best way to tell customers about what's happened. However, if you're worried you may be affected, you can get in touch with the Co-op.
Is the Co-op case a one off?
No. Last month, thousands of Clydesdale Bank mortgage customers found out they'd get some of their debt written off or would be given compensation as part of a £33 million redress package. This came after Clydesdale miscalculated their repayments (see the Clydesdale mortgage MSE News story).
Additional reporting by the Press Association.