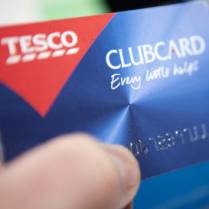 Tesco Clubcard vouchers only last two years, so check your account now to avoid losing out as millions of pounds worth are due to expire at the end of next month.
Supermarket giant Tesco estimates that over two million customers have unspent vouchers worth up to £16 million, which are all due to expire on 30 November (see our Loyalty Point Boosting guide to make the most of your Clubcard points).
We explain how the loyalty scheme works, and how you can check to see if you've got any unspent vouchers.
How do I earn Clubcard vouchers?
Anyone who has signed up to the Tesco Clubcard scheme usually earns one point for every pound spent in Tesco, or via partners such as E.on.
Each point is worth a penny if used in-store at Tesco. They're sent out in vouchers, which last for two years, every three months (as long as you have at least 150 points).
What can I spend Clubcard vouchers on?
Vouchers can be spent in-store at face value or at double the value under Tesco's Boost scheme, which runs in certain departments all year round.
You can also get up to four times the value of these points in its Boost Partners scheme, where you can swap them for items including restaurant vouchers or days out.
Clubcard statements for the current quarter (mid-July to mid-October) will be sent on 28 October, along with vouchers and coupons earnt during this period.
How do I check if I've got unspent vouchers?
To check if you've got unspent vouchers, log in to your online Clubcard account via the Tesco website and click on the My Vouchers tab. This will bring up a list vouchers you've accumulated with their expiry dates.
Should I spend my vouchers straight away?
Despite around £16m worth of vouchers expiring at the end of November, it may be worth waiting until 28 October to spend any vouchers, as this is when Tesco's Christmas Clubcard Boost scheme starts. This means you can double the value of your vouchers to use in more Tesco departments than usual.
If you don't want to take part in Tesco's Christmas Clubcard Boost scheme, make sure you spend your vouchers before they expire.
Why so many unspent vouchers?
Tesco says there are a variety of reasons why there are so many unspent vouchers all due to expire at the end of next month.
Some customers don't realise they have vouchers available to spend, some save them for things like holidays, and others lose their vouchers in the post.
I heard reports of online Clubcard vouchers being stolen. Is this true?
Earlier this year, MoneySavingExpert.com revealed Tesco had called in the police after Clubcard vouchers were stolen from numerous online accounts.
Tesco said fraudsters accessed Clubcard accounts using correct usernames and passwords, most probably sourced from somewhere else online, where customers have the same login details.
A police investigation into the matter continues, but we're still hearing reports from MoneySavers about vouchers being stolen (see the Police called in over Tesco Clubcard fraud fears MSE News story).
Anyone affected should change their password without delay, not only on their Clubcard account, but on all other online accounts. Also check the rest of your Clubcard account details are correct.
Everyone should try to change passwords regularly, and make sure they are complex enough so they're difficult to guess. It's also wise to use different passwords for different accounts. See our Stop Scams, ID Fraud Protection and Free Anti-Virus Software guides to stay protected.