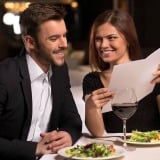 Worried about spending a fortune to impress a date? You don't need to be now a MoneySavingExpert.com poll has revealed most people think it's acceptable to use a 2for1 voucher on a first date.
Over 85% of people think it's acceptable to use a 2for1 voucher in a restaurant on a first date, and a third actually think it makes their partner a keeper, a MoneySavingExpert.com poll of almost 8,000 people reveals (see our Cheap Restaurants guide for all the current top eat-in and takeaway deals).
The survey asked: "Ollie asks Samantha to dinner on a first date, saying he'll pay. When the bill comes, he pulls out a 2for1 voucher. What advice would you give Samantha?"

The results have changed substantially since we first ran this poll in 2009.
Back then, 27% said she should run a mile, compared to just 14% today. One in three (30%) now say that someone using a voucher is a keeper as they're financially savvy.
So we're reassuring romantics that vouchers and coupons have lost their stigma in post-recession Britain.
Those out on a date may find their love interest is more likely to focus admiring glances on those who prefer to stash, rather than those that flash the cash – one to bear in mind with Valentine's Day coming up tomorrow.
'2for1s at Michelin-starred venues'
Martin Lewis, founder of MoneySavingExpert.com, says: "At last, we're moving closer to the idea that romance isn't about how much cash you flash, but about the thought.
"Over the recession years, vouchers have become far more socially acceptable. After all, why would you want a partner who tries to impress you by needlessly spending more than they have to?
"I think some of the past reticence was that vouchers were perceived as only being for low-end eateries, yet that has long gone.
"Now if you're savvy, you can even grab a 2for1 at some Michelin-starred venues. So if you use a voucher on a first date, and that turns them off, you've probably had a lucky escape – though I'm not quite saying you should brandish one between your teeth at the waiter either."
Here are the full poll results:
Is it OK to use a 2for1 voucher on a first date?
| Scenario | I'm a man | I'm a woman |
| --- | --- | --- |
| Ollie's great with cash. Samantha, HE'S A KEEPER! | 32% | 29% |
| It's not an issue, Ollie's still paying. | 53% | 57% |
| Ollie's being tight. Samantha, RUN! | 15% | 14% |