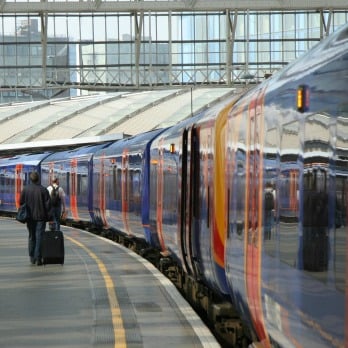 If you've suffered delays or cancellations to a train journey, you may be entitled to a full or partial refund. But most passengers don't know how to claim, the rail regulator says.
More than three-quarters of rail passengers don't know their rights when trains are delayed or cancelled, while just one in 10 regularly claims for refunds they're entitled to, according to the Office of Rail Regulation (ORR) (see our Cheap Train Tickets guide for tips on cutting costs).
The ORR found 74% of participants in its study said train companies do "not very much" or "nothing at all" to provide information about compensation when there are delays.
It also criticised companies for issuing refunds as vouchers, which it says puts passengers off making a claim. The ORR found only 55% to 85% of vouchers are redeemed, because most can only be used in ticket offices and not when booking a journey online.
Jo Gornitzki, money expert at MoneySavingExpert.com, says: "Delays and cancellations are sadly a regular occurrence on many train lines. It's a disgrace that companies aren't doing more to make passengers aware of their rights. But don't let them get away with it.
"If you've had to wait ages for your train or had your service cancelled, always check to see if you can get a refund."
New code of practice
The ORR is working on a new code of practice for ticketing information, which will be in place by the end of this year.
It says the code will force providers to make train fares and passengers' rights to refunds clearer, though companies will still be able to set their own refund rules.
ORR's chairwoman Anna Walker,says: "We want to see that passengers are treated fairly, receive the quality of service they pay for, and when this is not the case, can hold their service providers to account."
What are my refund rights?
Each train company publishes its own customer charter on what you're entitled to in the event of a delay or cancellation. For a full list of train operators and details of their schemes, see the National Rail website.
Here's what you can generally expect when making a claim for single or return tickets:
If your train is cancelled or delayed, and you choose not to travel, you can claim a full refund.
If your train is cancelled or delayed, and you decide to travel, you may be entitled to a part-refund. For example, if your train is one hour late you could be able to claim at least a 20% refund on a single ticket.
10 rail companies offer "delay repay", which means they pay half the ticket cost for delays of 30 or more minutes, and the whole ticket price for delays of more than 60 minutes.
Refunds are usually paid in train vouchers sent to you in the post, which are valid for a year.
If you're a season ticket holder, what you're entitled to also depends on the operator's customer charter.
Some offer a discount when your season ticket is due for renewal, while others will refund you in train vouchers for the amount the journey would have cost without a season ticket.
How do I get a refund?
How to claim a refund depends on how you bought your ticket. Most travellers will fall into one of the following categories:
I bought my tickets at the station: If your train is cancelled or delayed, and you choose not to travel, you can claim a full refund straight away at a ticket office via the same means you paid by.
I bought my ticket in advance from the company's website: Here, you can't claim from a ticket office. Instead, send the train operator's claim form either online or by post within 28 days of the date you were due to travel.
I bought my ticket from a third party website: How to claim in this instance depends on which website you bought your tickets from. For example, RedSpottedHanky asks you to write to the relevant train company and obtain confirmation that your service was delayed or cancelled. Once you have that, you must post it, along with your tickets, to its refund service.
How easy is it get a refund?
We asked our followers on Twitter whether they'd tried getting a refund for a delayed or cancelled train, and if so, what happened. Here's a selection of the replies we received:
@Claris_Sparky said: "Got a refund for disrupted travel on Christmas Eve from First Great Western. Refund forms are easy to fill out and the majority freepost to send."
@lizwood28 said: "Sent off a claim for a refund on Monday and told @SW_Trains have a 5-10 week backlog!"
@Tomfoola said: "Got full refund from @Se_Railway for a nightmare journey in December, plus £20 for "the inconvenience". Always worth asking."
@markblackie89 said: "Got a refund during train delays before Christmas on the East Coast line. Very helpful but refund was only given in rail vouchers!"
Additional reporting by the Press Association.