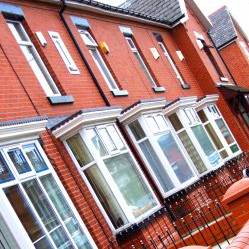 The cost of a new mortgage is already showing signs of edging up, despite the Bank of England base rate remaining unchanged at 0.5%.
Financial information group Moneyfacts reported this week that the rates charged on two-year fixed-rate deals are rising at their fastest pace in over two years. (Crunch your numbers using our Mortgage Calculator.)
The hikes mean someone applying for a two-year fix on 1 April would have typically been offered a rate of 3.52%. But by 30 April, this would have jumped to 3.61% on average.
This difference would add up to nearly an extra £300 having to be paid over the term of a £250,000 mortgage. The 0.09% increase seen on rates charged for two-year fixes across all loans-to-value (LTV) is the sharpest rise Moneyfacts has seen over the space of one month since February 2012.
Some experts have put the rises down to increases in swap rates, which lenders use to price their loans.
Moneyfacts says the swap markets have been "volatile" in recent weeks amid continued speculation about when the Bank of England might raise the base rate from its historic low level as the economy improves.
There have also been suggestions that rates are being tweaked upwards in order to stem the flow of new applications for home loans while lenders adjust to a new mortgage lending clampdown, which came into force on 26 April – although lenders were gearing up to them before the deadline.
Under the new toughened Mortgage Market Review (MMR) rules lenders have to spend more time probing mortgage applicants about their spending habits.
They also have to apply "stress tests" to make sure an applicant could cope with interest rates rising (see the New mortgage rules: How do they affect you? MSE News story).
Rates are 'still very low'
David Hollingworth, a spokesman for broker London & Country Mortgages, says: "The closer we get to the time when the market starts to expect an increase in the base rate, the more upward pressure on mortgage rates you will get."
But he also says rates are "still very low and you can still get below 2% on a two-year fix".