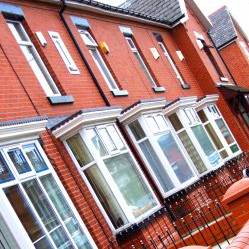 Anyone looking to get a mortgage will have to have their finances scrutinised more closely from tomorrow under new rules, meaning some may find it harder to get a mortgage.
The changes, brought in by the Financial Conduct Authority (FCA), mean lenders must ensure borrowers only get a mortgage they can afford. (Crunch your numbers using our Mortgage Calculator.)
But as many lenders have already been following the new rules, some borrowers won't notice the difference. The biggest changes potential borrowers will face are:
You're going to be asked to spell out all your financial commitments. Those who haven't applied for a mortgage recently may be shocked at the level of questioning, and find they can borrow less. But this could also mean potential borrowers start being more tactical about when they apply for a mortgage. For example, they may apply for one before they think of starting a family.


Lenders may be slower than usual. Four of the big six lenders MoneySavingExpert.com asked say both phone and in-branch interviews are likely to be longer. Lloyds Banking Group predicted the biggest rise, saying a phone interview could now take two hours – up from 30 minutes. Santander anticipates the longest interview time of the six lenders, at up to two and a half hours, depending on the individual's circumstances.


New borrowers may find it harder to get a deal. With stronger affordability checks and stress testing, new borrowers may find it much harder to get a mortgage compared with a few years ago.


Existing borrowers may struggle to get a new deal. Current borrowers looking to remortgage, or who are moving home and looking for a new deal, may also get trapped with an expensive loan as they don't meet the new stricter requirements to get a deal elsewhere. The FCA says some rules can be waived by lenders, but only where an existing borrower is not increasing the loan amount and where the lender deems the move to be in the borrower's best interests.
MoneySavingExpert.com managing editor Guy Anker says: "This is no bombshell, as lenders have been adopting these new rules gradually over the past few years. But nevertheless, it's more difficult to get a mortgage then it would have been a few years ago.
"Therefore, if you're planning to apply for a mortgage, it's key that you get your finances in order, including checking your credit file, paying all your bills on time and gathering all your paperwork early to show as evidence.
"If you don't know where to find the best deals, make sure you use a whole of market broker. Never just go straight to your bank or it'll just flog you its deals."
David Hollingworth of broker London & Country adds: "In many ways, the new rules will entrench what has generally become common practice already".
What are the new rules?
The FCA's new rules, which are designed to stop banks conducting the risky lending which took place before the financial crisis, mean lenders can no longer offer mortgages on an information-only basis. If you talk to their staff in a branch or by phone, they now have to offer advice and recommend the most suitable product from their range for you.
So when you apply for a mortgage, you can now expect:
Stronger affordability checks. As lenders now have to offer advice, they need to look closely at your income and outgoings. In some case lenders will ask for original bank statements – printouts of your online statement won't suffice.

Stress testing. This is designed to check how borrowers would cope with a rise in interest rates. So as well as working out if you can afford the mortgage at the current interest rate, the lender will check that you can afford monthly repayments at a higher interest rate. Experts say a rate of around 6%-7% is likely to be used.
Improved staff training. Bank staff must to be trained and qualified to a required standard to give advice. Previously, they didn't have to be qualified as long as they only provided information.
Interest-only to continue. Lenders will still be allowed to grant interest-only loans, but only where there is a solid repayment strategy.
Sub-prime lending OK. Borrowers with a patchy credit record can still get a mortgage, as long as they can prove they can afford it, although many lenders still shy away from these borrowers.

Some lenders may still let you apply for a mortgage without taking advice if you contact them online or by post. See the FCA website for more information on this.
FCA chief executive Martin Wheatley says: "In the past, too many people got a mortgage by simply telling their lender they would have no problem repaying their debt, and that was that.
"Getting a mortgage can be one of the biggest financial decisions people will ever make, so it needs careful consideration. Our new rules will hard-wire common sense into mortgage lending."
What's changed for brokers?
Mortgage brokers – who scour the market to find you a good deal (see our Cheap Mortgage Finding guide) – have always offered advice, so there's unlikely to be any change in what they ask or what information you need to provide.
What should I watch out for when applying for a loan?
These are the five key lifestyle points that could reduce your borrowing capabilities.
Children. They might be a sign of stability, but the costs are bigger, so consider getting a mortgage before you start planning a family.
Child maintenance payments.
School fees.
Existing debt.
Outgoings you've committed to, including gym membership and digital TV subscriptions.
Do a Money Makeover, cancel any unnecessary direct debits, and don't buy any luxuries you don't need for at least three months before you apply for a mortgage.
What happens if I began my mortgage application before today?
We had a mixed response from the big six lenders (Barclays, HSBC, Lloyds Banking Group, Nationwide, RBS and Santander) over what happens to applications which have already begun.
Barclays says applications started before 31 March and submitted before tomorrow will carry on, as long as no material changes are made. But Lloyds Banking Group says if customers aren't at the full application stage by tomorrow, they'll need to start all over again.
If you're unsure where you stand, contact your lender to check.
Additional reporting by Michael Smith.