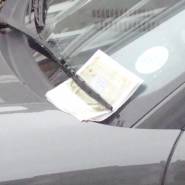 The Government is clamping down on trigger-happy parking wardens and banning CCTV 'spy cars' in new laws due to come into force by the end of this year.
Following a three month consultation on local authority parking, the Government has published a 10-point plan to rein-in "over-zealous parking enforcement practices", which it says has forced people to shop in out-of-town centres or online.
One of its key plans is to ban the use of 'spy cars' to catch people who park illegally, which is says should end the "plague" of tickets being issued by post. (See our Parking Ticket Appeals guide if you've had a ticket you don't deserve.)
Instead of using the mobile cameras, parking wardens will have to fix tickets directly to windscreens, making it illegal for councils to issue penalties to drivers using CCTV cars unless it's for offences that occur on critical routes, such as outside schools, bus lanes and bus stops.
Communities Secretary Eric Pickles says: "CCTV spy cars can be seen lurking on every street raking in cash for greedy councils and breaking the rules that clearly state that fines should not be used to generate profit for town halls.
"Over-zealous parking enforcement and unreasonable stealth fines by post undermine the high street, push up the cost of living and cost local authorities more in the long term.
"The Government is taking urgently needed action to ban this clear abuse of CCTV, which should be used to catch criminals, and not as a cash cow."
What are the Government's other parking plans?
The Government's other plans, which it says should give drivers a "fairer deal", include:
No parking fine if you park near an out-of-order meter and there's no alternative way to pay.
A compulsory 10-minute grace-period at the end of paid-for parking will be introduced. This will also apply to free on-street parking. So if you've parked in a free 30-minute parking bay, you won't be penalised for returning a few minutes late.
Adjudicator powers will be increased. So if for example an adjudicator's seen repeat parking tickets issued at a specific location where there may be inadequate signage, the adjudicator could stop the council issuing tickets in that area or get it to change the sign (or both).
Residents and businesses will have the right to demand a review of parking in their area, including the use of yellow lines and charges.
Parking guidance will be reformed so it is isn't as "heavy-handed" with motorists. It's hoped this will stop bailiffs being overly aggressive.
Councils will be forced to publish how income from parking charges is used.
The cost of parking tickets will be frozen for the remainder of this Parliament.
These changes will become law through the Deregulation Bill.
Separately, the Government is also trialling a 25% discount for motorists who lose a parking appeal at tribunal on the full price of their parking ticket.
Additional reporting by the Press Association.