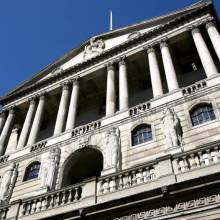 The Bank of England is planning to put a cap on home loans and introduce stronger checks to make sure borrowers can afford their repayments.
Loans of 4.5 times a borrower's income or higher should account for no more than 15% of new mortgages issued by lenders which have over £100m on their loans books, the Bank's Financial Policy Committee ruled last week.
The clampdown, designed to curb risky mortgage lending, will apply to both single and joint mortgage applications. (See our Mortgages and Homes section for tips on buying a property.)
The Bank is consulting on the new loan-to-income rules until 31 August, and plans to introduce them on 1 October. They will apply to mortgage offers made or decisions in principle taken before the proposed rule comes into effect, but which complete after 1 October.
Lenders will also have to apply a new "stress test" to ensure borrowers can keep up mortgage repayments in the event of a rise of up to 3% in interest rates over the first five years of the loan.
Stress testing was introduced on 1 April this year under the Mortgage Market Review, but at the time experts said a rate of around 6%-7% was likely to be used.
There is no date for the new stress-testing rule to be introduced.
The Bank's announcement Chancellor George Osborne's speech earlier this month, which outlined how it would be given greater powers to limit mortgage loans based on borrowers' incomes or the value of their homes (see the Risky mortgages to face new crackdown MSE News story).
Figures from the Council of Mortgage Lenders (CML) show that nationally, 9% of new home loans are for 4.5 times a borrower's income or more. In London, this figure reaches 19%.
Help To Buy changes
The Government's UK-wide Help To Buy mortgage guarantee scheme is also affected by the changes. All loans under Help To Buy at or over 4.5 times a borrowers' income will now be banned.
Over 7,000 loans have been handed out so far under the scheme, and over 95% have been below this amount. 80% of Help To Buy users are first-time buyers.
Prevent future lending mistakes
Bank of England governor Mark Carney says it's "taking out insurance" to prevent any future lending mistakes, though adds it doesn't want to shut off high loan-to-income lending entirely.
He said: "As we've seen time and again how quickly responsible can turn to reckless, creating risks that ultimately derail the UK economy.
"History shows that the British people do everything they can to pay their mortgages. But that means cutting back sharply on expenditures when the unexpected happens, potentially slowing the economy sharply."
Additional reporting by Paloma Kubiak.