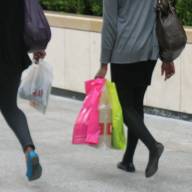 High street lingerie chain La Senza has gone into administration for the second time in two years, but its stores will remain open while it seeks a buyer.
PricewaterhouseCoopers (PwC) has been appointed as the firm's administrators following "challenging conditions".
La Senza last entered administration in January 2012, when it was forced to close 80 stores. It currently has 55 stores in the UK, but PwC says there are no immediate plans to close any shops while it searches for a buyer.
The firm employs 752 staff across England, Wales and Scotland.
If you were planning on heading to its website, it's currently down. A message on it reads: "Oops! You caught us with our panties down. We're performing some essential website maintenance. Please check back soon."
PwC says as the website was suspended about four days ago, customers shouldn't be waiting for any outstanding orders. It adds that no-one will have an active gift card for the firm either.
'Hit hard' by slowdown in spending
Joint administrator Robert Moran says: "Like many other retailers, La Senza has been hit hard by the difficult economic environment and a slowdown in consumer spending.
"The administrators are continuing to trade the businesses as normal for the time being whilst discussions take place with interested parties in respect of a sale.
"We welcome any approaches to purchase all or part of the store portfolio.
"There are no immediate plans to close any stores and the administrators shall continue to assess the trading strategy over the coming days and weeks.
"Staff have been – and will continue to be paid for their work. The company and the administrators are making every effort to help staff at this difficult time."