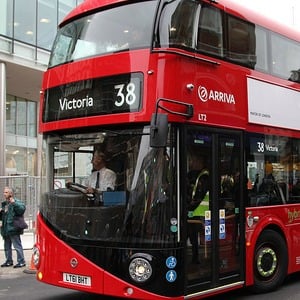 If you're travelling by bus in London from Sunday, don't bother trying to find change to pay the driver, as cash fares are being abolished.
You'll need to have an Oyster smartcard or contactless payment card to travel, or a travelcard or other pre-paid ticket.
Transport for London says only 0.7% of bus passengers pay by cash, and it'll save £24 million each year and speed up services by scrapping the fares.
Travellers who pay cash are already paying more than others for their travel – cash fares on buses cost £2.40, 95p more than the same fare on Oyster or a contactless card.
Just over a third of passengers who pay cash live outside London, so if you're travelling to the capital, you should be aware of your options if you plan to take the bus.
How do I get an Oyster card?
Londoners have been able to pay for bus journeys with Oyster, which needs to be topped up before travel, since 2003.
Each Oyster card can store up to £90 of money to spend on buses, trains, the Tube and other public transport in London, and can be topped up online or at stations.
Oyster fares are usually cheaper than cash, and they limit the amount you can spend on your travel each day. If you're only travelling by bus, you can make as many trips as you like but will only be charged £4.40 for the day's travel.
They can also store prepaid tickets such as bus passes or travelcards.
Oyster cards are available to order online or from London Underground ticket offices. You'll need to put a £5 deposit on the card, but you can get this back if you hand the card back in. (See the Got an Oyster card you don't use? MSE News story for how.)
What if I've run out of cash on my Oyster?
TfL has introduced a One More Journey feature on Oyster, which means if you run out of credit and can't top your card up, you can go "into the red" for one bus trip. You'll get a slip from the ticket machine and will have to top up the card before you can use it again.
Since it was introduced last month, 44,000 passengers each day have used this feature, TfL says.
What about contactless cards?
You can also use contactless payment cards to travel on London's buses. Contactless credit or debit cards allow you to pay for goods and services under £20 without having to enter their Pin.
If your card is contactless, it'll have a wavy symbol on the front. Just tap it on the reader and your £1.45 fare will be deducted from your account.
But at the moment, contactless cards don't limit your spending. So if you think you'll need to use more than three buses in a day, use an Oyster card instead, which will cap your daily spending at £4.40.
TfL says you'll be able to use contactless cards on the Tube, London's National Rail services and the Docklands Light Railway later this year, and fare caps will be introduced then.
Check your wallets – don't keep Oyster and contactless together
If you have both an Oyster card and a contactless payment card, keep them in separate wallets to avoid the wrong card being charged.
While TfL says it is not possible for both cards to be charged, passengers who have loaded bus passes or travelcards onto their Oyster could find themselves effectively paying twice if the reader detects a contactless credit or debit card first.
And sometimes, the presence of both an Oyster and contactless card in the same wallet can mean neither work.
TfL will refund customers charged on the wrong card if they have effectively paid twice.
If you have a query about your fare and want to get your money back, contact TfL on 0343 222 1234 or email oysterenquiries@tfl.gov.uk.