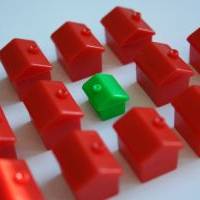 Many homeowners paying a standard variable mortgage rate (SVR) with a decent credit score and 10%+ equity, can ditch their mortgage and save by getting a new one.
As many as four in 10 mortgage holders are currently paying their lender's SVR – the go-to rate lenders put you on after a deal finishes. SVRs now average 4.9%, although they can be as high as 6% (see our Remortgage guide to find out how to get the best deal).
But current remortgage deals, where you simply switch your mortgage to a cheaper deal, are now far cheaper than most SVRs. Even a 1% rate cut, for example, would save you £900+/year on a £150k mortgage.
This week we received an email from a user who provided a perfect example of why homeowners should switch. Sarah emailed us to say: "I saved £500 on our monthly mortgage payments by remortgaging to a new five year fixed repayment rate. Saving £30K in five years. It took time, but the effort paid off."
SVRs vs best buy mortgages
Below are two tables comparing the difference between SVRs and some of the current best buys mortgages available so you can compare the total costs.
Examples of some lenders' Standard Variable Rates
Lender
Main SVR
Total cost/year on £150k mortgage (i)
Barclays
3.99% (ii)
£10,900
Clydesdale/Yorkshire
4.95%
£11,830
Co-op
4.74%
£11,630
Coventry BS
4.74%
£11,630
First Direct
3.69%
£10,620
Halifax
3.99%
£10,900
HSBC
3.94%
£10,850
Kent Reliance
6.08%
£12,980
Lloyds
3.99% (iii)
£10,900
Nationwide BS
3.99% (iv)
£10,900
NatWest/RBS
4%
£10,910
Norwich & Peterborough
4.99%
£11,870
Post Office
4.49% (v)
£11,380
Santander
4.74% (vi)
£11,630
Skipton BS
4.99%
£11,870
TSB
3.99% (vii)
£10,900
Virgin Money
4.79% (viii)
£11,680
Yorkshire BS
4.99%
£11,870
(i) Assuming 20 years remaining and SVR doesn't change (it will if base rate goes up). (ii) SVR tracks the Barclays Bank Base Rate plus 3.49%. (iii) Customers who took a mortgage before June 2010 will be on a SVR of 2.5%. (iv) Customers who took out a mortgage before May 2009 will be on a SVR of 2.5%, which tracks 2% above the base rate. (v) SVR is the Bank of England base rate plus 3.99%. (vi) Customers of what was formerly Alliance & Leicester are on an SVR of 4.99%. (vii) Cheltenham & Gloucester customers who took a mortgage before June 2010 will be on a SVR of 2.5%. (viii) SVR is 0.25% lower for customers who've had a Virgin Money mortgage for seven+ years.
Examples of some lenders' best buys
Best-buy rates
LTV (i)
Admin fee
Cost/year on £150k (ii)
2 year tracker currently 1.44%
65%
£345
£8,900
2 year fix 1.54%
60%
£999
£9,300
2 year tracker currently 2.34%
80%
£0
£9,475
2 year fix 2.44%
80%
£199
£9,660
5 year fix 2.95%
65%
£99
£9,990
2 year tracker currently 2.9%
90%
£599
£10,260
2 year fix 3.54%
90%
£195
£10,968
(i) LTV = Loan to value – the % of your home's value you borrow. (ii) Over initial term at current rates, including admin fee, plus estimated £150 for other fees – most of these deals have free legal & valuation fees. Assumes a 20 year term and rates don't rise.
What to watch out for when getting a new deal
When getting a new deal there are a number of points to watch out for, here are the key issues:
Mortgage fees: If you can save by switching to another mortgage just remember to take the fees into consideration as the smaller the mortgage, the bigger the impact of fees. Our Mortgage Best-Buys Total Cost Comparison tool combines both the rate and the admin fee to assess which mortgages are actually cheapest for you.


Exit, legal and valuation charges. There can also be exit, legal and valuation fees, so check all of these and compare the winner to your current deal with our Compare Mortgages Calculator.


Minimum remortgage amounts. Most lenders have a minimum mortgage they'll grant, such as £75,000, so if your mortgage is small you may not be able to get a new deal.


Fix or variable rate? The advantage of fixing is your repayments are locked in, giving budgeting certainty for a set time. Variable deals move with UK interest rates or on the lender's whim. Currently you pay a little more to fix, but if safety is what counts for you, err on the side of fixing, and fixing for longer. See our full Fixed v Variable guide for more.