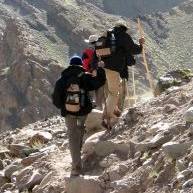 Almost one third of the million skiers and snowboarders expected to hit the slopes abroad this year will do so without the right winter sports cover, according to shocking new statistics.
The Association of British Travel Agents (ABTA) research revealed that 29% of winter thrill-seekers are at risk of ending up paying an arm and a leg for medical treatment out of their own pocket because they don't have the correct level of cover. (See MoneySavingExpert.com's Cheap travel insurance guide to save on your cover).
Of the 2,000 people surveyed, those aged under 35 are the most exposed as they are more likely to take a winter sports holiday but less likely to take out winter sports insurance – 32% of people in this age group said they would travel without a policy.
More worryingly, one in five of the 16 to 24-year-olds questioned and 23% of the 25 to 34-year-olds said they think travel insurance is unnecessary because they assume the Government will pay for treatment if they fall ill overseas.
The Foreign and Commonwealth Office (FCO) does provide support for British nationals that get into difficulties overseas, but it does not pay for medical bills if people are hospitalised and it cannot arrange to fly patients home.
Another misconception – one held by 25% of 16 to 24-year-olds and 23% of 25 to 34-year-olds – is that insurance is unnecessary in Europe if you have a European Health Insurance Card (EHIC).
However, the EHIC only gets you free or discounted medical care at state-run hospitals and GPs and you'll only be entitled to the same treatment that local citizens are entitled to, not what you normally get under the NHS. In France, for example, even if you go to a state-run facility, you'll have to pay for the treatment upfront and you'll only be able to claim back around 70% of the cost.
Also, in some countries, if you don't have your EHIC on you at the time of the accident or injury, you won't be covered.
'You can get a good winter sports policy for just £20'
Leigh Jackson, MoneySavingExpert.com's senior insurance writer, says: "It's troubling that 29% of people hitting the slopes do so without the right cover in place, especially as you can get a good winter sports policy for just £20.
"Just because winter sports cover isn't included as standard on a normal travel insurance policy, it doesn't mean that it is difficult to buy. However, there are a couple of things to remember before you go and get your policy. Basic insurance will cover you for skiing and snowboarding, so if you're doing any sports which are more extreme, let your insurer know.
"Don't get on the slopes while drunk; having an accident while under the influence could invalidate a claim and, as always, check your policy terms and conditions to make sure it covers you, and your ski pack, adequately before you buy."
'Make sure you're covered for everything you plan to do'
ABTA is also urging returning skiers to check their insurance is up-to-date and that it includes winter sports cover. Anyone travelling on 'winter wonderland' breaks where they may be taking reindeer sleigh rides, snow-mobiling or ice-fishing may also not be covered by standard travel insurance, so they are being urged to double-check their policies.
Mark Tanzer, ABTA chief executive, says: "As temperatures drop and people start planning for their winter holidays, we urge them to obtain adequate travel insurance as part of these preparations.
"Winter holidays often include activities that may not be covered by the usual travel insurance policies and holidaymakers should make sure that they are covered for everything they plan to do."