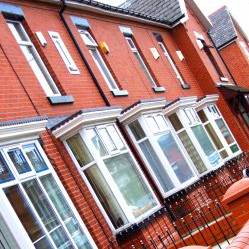 From Monday 26 January it could be more difficult to sell or rent your home as a new high street estate agent-led property portal is launching that restricts the number of websites its members can advertise properties on.
A group of agents has clubbed together to create Agents' Mutual – the company behind the new portal Onthemarket.com – to try and challenge the dominance of Rightmove and Zoopla, which between them receive 110 million visits per month.
Six big-name agencies led the creation of the new portal, and so far 4,000 individual estate agency branches have signed up, with more expected to join after Monday's launch.
Those who've signed up have agreed that in future they will only put their property listings on the new portal and one other.
Onthemarket.com told MoneySavingExpert that the site will feature "hundreds of thousands of properties to buy or rent at all price points, right across the UK" when it launches.
What does this mean if I'm about to sell (or rent) my home?
At present, if you enter into an agreement with either a high street or online agent to market your home, it will usually pledge to list it on a wide range of property portals, most importantly Rightmove and Zoopla.
The two websites receive the bulk of property search traffic, with Rightmove getting a monthly average of about 70 million visits and Zoopla about 40 million.
But member agents of the new portal will only be allowed to list your property with Onthemarket.com and one other portal.
Members agents have also agreed that they will list new properties on Onthemarket.com first, and won't add them to the other chosen portal for at least 48 hours.
In effect, this means if you sign up with a member agent, you can only have your property listed on either Rightmove or Zoopla, and not for at least 48 hours of it hitting the new portal.
We don't know how much traffic the new site will receive – obviously the agents involved claim it will receive a lot of traffic but certainly in the initial stages new sellers' homes are likely to get less exposure than they do now.
Property portal roulette
Each member agent will choose its 'other' portal on an agency-wide basis, so if you sign a contract with an agent and its other portal is Rightmove, that's the one you'll be listed on – you don't get to choose.
As part of our research we approached the six firms which founded Agents' Mutual – Savills, Knight Frank, Strutt & Parker, Chestertons, Douglas & Gordon and Glentree Estates – to ask which other portal their clients would be listed on. We also asked KFH, Spicerhaart and Rook Matthews Sayer, three of the big agencies who've announced they've signed up to Onthemarket.com.
At the time of publishing, only Strutt & Parker, KFH, Knight Frank and Savills had confirmed which of the two existing leading portals they will list on. All four of these agents will be listing on Rightmove, which means that if they currently have properties listed on Zoopla that these will be removed.
All four agencies confirmed that they will notify clients of this change.
If you're in the process of finding an estate agent to sell your home, ask those you are interested in if they are members of Onthemarket.com, and if so, which other portal they list properties on. If your home is already on the market, ask your agent if your property is set to be de-listed from all but one of the main portals.
The changes do not apply to online agents as they are not allowed to become members of or list properties on Onthemarket.com.
Why are the agents doing this?
Agents' Mutual says it hopes to "disrupt the duopoly which currently exists in the property market website". It claims that Rightmove and Zoopla have too much influence over online property listings, and it is unhappy about the escalating fees charged by the two portals.
The decision to exclude the growing number of online estate agents is also a clear attempt to drive the lucrative business of selling houses away from low-cost operators and back into the hands of traditional high street estate agents.
Ian Springett, chief executive of OnTheMarket.com, says: "It will add much-needed competition in a market which has been dominated for too long by two large groups which are evidently not serving their estate and letting agents well enough.
"These groups have been making super-profits at the expense of thousands of small businesses and the money they make is out of all proportion to the value they are contributing to the property industry."