If you want to vote in the much-anticipated EU referendum, you can do so even if you've lost or didn't get a polling card, so long as you're registered to vote.
The time for talking is almost over as people across the UK prepare to head to their local polling stations from 7am to 10pm tomorrow (23 June) to make their voice heard on whether the UK should remain part of the EU or leave.
Here are the key need-to-knows about the voting process.
I don't have a polling card – can I still vote?
Yes, you can. If you're worried about turning up to vote tomorrow because you haven't got a polling card, don't let that deter you.
In England, Scotland and Wales, as long as you're registered on the electoral roll and go into the polling station and give your name and address, you'll be able to vote – though it's advisable, if possible, to go in with ID and/or proof of address. In Northern Ireland, you don't need a polling card but do need to take photo ID with you.
Where do I vote?
To take part in the referendum you must vote at your local polling station.
The location of this will be on your polling card, which should've already been posted to you. However, if you haven't got your polling card, call your local electoral registration office (find the number here) and you'll be told where it is.
How do I know if I'm registered to vote?
If you're a British, Irish or Commonwealth citizen living in the UK and are 18 or over, you're eligible to vote in the referendum. British citizens aged 18 and over who've lived abroad for less than 15 years are also eligible. But just because you're eligible doesn't mean you're actually registered to vote.
If you were registered for the local elections in May or last year's general election AND you still live at the same address, you should still be registered to vote – but if not, you needed to have registered by 9 June this year. If you didn't do this, unfortunately you WON'T be able to vote in the referendum.
The polling station has a copy of the electoral register so staff there will be able to confirm for certain that you're able to vote if you're unsure – though if you want to check, you can also try calling your local electoral registration office (find your nearest here).
How do I fill in the ballot paper?
Once you arrive at the polling station tomorrow you'll receive a ballot paper like this one: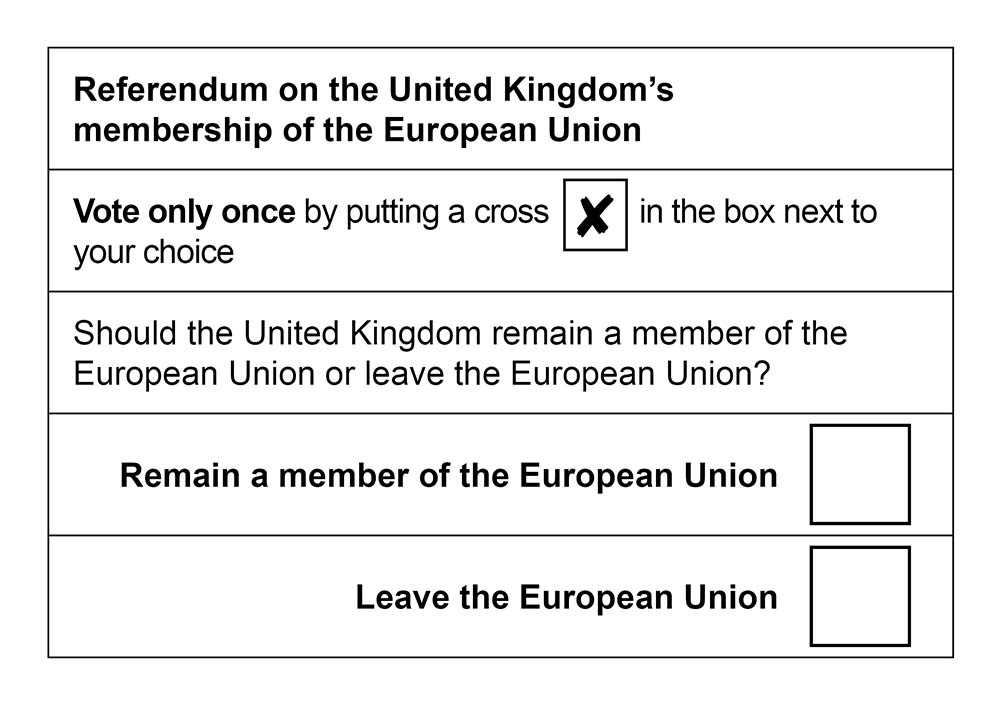 You show your choice by putting a cross (X) in the 'Remain a member of the European Union' box or 'Leave the European Union' box. Put a cross in only one box or your vote won't be counted.
If you're disabled, you can ask for help and the 'presiding officer' can mark the ballot paper for you. You can also ask someone else to help you (eg, a support worker, as long as they're a relative or eligible elector and haven't already helped more than one other person to vote).
If you have a visual impairment, you can ask to see a large print ballot paper or you can ask for a special 'tactile voting device', which has braille to help you vote on your own in secret.
And finally... avoid 'selfies' in the polling station
If you're tempted to take a sneaky snap of yourself when you vote, beware. Taking photos inside a polling station is against the law.
The rule applies even if you're just taking a photo of your ballot paper to let your Facebook friends know how you voted – technically, this counts as information 'obtained in a polling station' and if shared it could breach 'secrecy requirements'.
However, feel free to share pictures taken outside the polling station on social media as a way of encouraging your friends and family to make their vote count. And if you've seen pictures of people's postal ballot papers on social media and were wondering, the same restrictions don't apply to these, as they haven't been taken inside a polling station.
For further info on how to vote, see the Electoral Commission website. Happy voting!