A grieving widow who had always dreamed of sailing on the QE2 was left "beside herself" after cruise company Cunard billed her £385 to remove her late husband's name from a voyage booked 18 months in advance.
With Marilyn and Peter Sweet about to celebrate 40 years of marriage, the semi-retired couple from Bolton agreed to pay £5,118 for an adapted cabin for an 18-night Mediterranean cruise onboard the Queen Elizabeth Luxury Ocean Liner in October 2017. Yet just weeks after making the booking at the beginning of April this year – and paying a non-refundable deposit of £771 – Peter sadly passed away.
While mourning her husband, Marilyn was also left with the task of sorting out the couple's finances. Having made the difficult decision to go on the cruise by herself, the 63-year-old former teacher asked via the third party she'd booked the Cunard cruise through (Vision Cruise) whether she could:
Give up the adapted 'stateroom' cabin, which was needed to accommodate diabetic Peter's mobility scooter, so another disabled person could use it
Downgrade to a single stateroom or lower grade cabin for one
Unfortunately, despite being informed of the exceptional circumstances, Cunard refused to accommodate Marilyn's request to downgrade. Instead, the company said she could move to another cabin of the same grade but at a single occupancy rate of £4,495.
£385 booking alteration charge
To add insult to injury, Marilyn was then left gobsmacked after she learned she would also be expected to pay an additional £385 charge just for removing her late husband's name from the booking.
She was told the £385 charge would be added to the single occupancy rate for her cabin and the total would amount to £4,880 – just £238 less than it would've cost for both Marilyn and Peter (pictured below) to go on the cruise.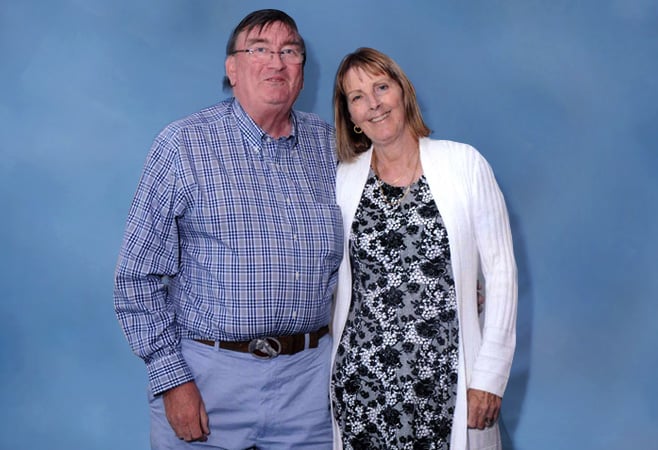 Cunard's website warns passengers "it is not possible to downgrade to a lower cabin grade/type, only a move to a higher cabin grade is possible". And its T&Cs add: "If a cancellation reduces the number of passengers originally booked in a stateroom together, the remaining passengers shall each be liable to pay any increase in the fare arising as a result of such reduction".
Cunard backs down
Marilyn's daughter Joanna tweeted MoneySavingExpert.com founder Martin Lewis to highlight the situation.
@MartinSLewis Cunard will not allow my mum who is recently widowed downgrade at all and are wanting over £300 to take my dads name off!

— jo sweet (@joannacsweetuk) July 6, 2016
We spoke to Marilyn and then raised the issue with Cunard. The next day, Cunard backed down and offered Marilyn a double cabin with a balcony a few doors down from the original adapted one for just £2,569, which is almost half the original price she agreed to pay and is less than the price of a lower grade single cabin several decks down the ship, which she had initially asked to be downgraded to.
A Cunard spokesperson told us: "'We are sorry for any distress we may have caused Mrs Sweet. We have spoken with her and the matter is now resolved. Mrs Sweet will incur no cost on the transferral of her booking."
Although Marilyn is satisfied with the way things have been resolved by Cunard, and is now looking forward to going on the cruise, she remains angry about her earlier treatment which she said was a "total disgrace".
She added: "When I was a young girl my parents took me to see the recently launched QE2 and I thought it was a fantastic ship. It became my life-long dream to one day go on it. Peter and I worked hard all our lives and we wanted to treat ourselves with this cruise.
"He passed away suddenly a few weeks after booking the cruise – we were left completely devastated and we weren't prepared for it any way, shape or form. Sorting out all our finances has been really difficult without having to deal with this too. I was left beside myself when I was told I had to pay a charge to change the booking and that I couldn't downgrade. I couldn't believe they could be so unsympathetic."
If you've booked a holiday, you need travel insurance NOW

Marilyn's approach of not taking 'no' for an answer has paid off – by putting pressure on Cunard she's managed to secure a significant discount on her single occupancy rate and also had the £385 charge waived. However, achieving this has required a significant amount of time and effort at a difficult time.

The best way to guard against general cancellation costs is to take out a travel insurance policy as soon as you've booked your trip – this will serve as a backstop if the unthinkable happens and you need to cancel in the event of illness or the death of a family member or spouse. See our Cheap Travel Insurance guide for full help and top picks.

In this case, Marilyn didn't have travel insurance in place, but it's unlikely she would've been covered in any case because her situation involved a booking amendment rather than an outright cancellation.
We asked the Cruise Lines International Association (CLIA) and the Association of British Travel Agents (ABTA) what the rules are around cruise companies charging passengers for booking amendments in the event of the death of a travel companion.

A spokesperson for the CLIA told us it's up to individual cruise companies to outline their practices in their terms and conditions.

An ABTA spokesperson added: "We always advise people to take out travel insurance at the time of booking, as it's the cheapest and easiest way of protecting yourself. If it does come down to T&Cs then it is up to the discretion of the individual company."