Supermarket giant Tesco has cut the price of its cosmetic own-brand cotton buds by more than two thirds, after an MSE investigation revealed it was selling a seemingly identical product at a fraction of the price in the baby aisle.
The cotton buds were one of the key examples included our Baby aisle bargains blog post earlier this week, which listed bargain buys that can be found in supermarkets' baby aisles at significantly lower prices than similar or near-identical alternatives elsewhere in the same shop.
We found a pack of 300 cotton buds for 55p in Tesco's baby aisle (18p per 100), while buds with exactly the same look and feel were selling at £1.50 for a pack of 200 in the cosmetics aisle (75p per 100).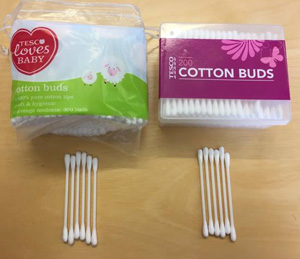 Now Tesco has admitted the cotton buds are indeed the same, and in response to our article, the supermarket's dropped the price of its cosmetic aisle cotton buds from £1.50 to 40p nationwide – a price drop of £1.10 (73%).
A spokesperson for Tesco told us: "Our pricing team looked into it and we found that the product was indeed the same just for a different size and different packaging – we have adjusted the price accordingly to be fair to our customers."
According to the price comparison website MySupermarket, it's the first time the price has changed in more than a year, as shown in the graph below:

Is it still cheaper to buy in the baby aisle?
While the cosmetic cotton buds are now far cheaper, bud for bud it is still slightly more cost-effective to buy the pack of 300 in the baby aisle - they cost 20p per 100 in the cosmetic aisle, 18p per 100 in the baby aisle.
Nevertheless, the price change will hopefully stop many customers being caught out by the massive price difference.
Our investigation also found a whole host of other products in the baby aisle which are sold for much less than similar, if not identical, products are elsewhere. In Tesco's case, these other examples tended to be branded items, and there's no indication prices for these will change - so you may still be able to save by switching aisle. See our Baby aisle bargains blog post for full details.
What about other shops and supermarkets?
This issue isn't unique to Tesco - we found similar differential pricing across aisles in other big shops.
Sainsbury's, Morrisons and Boots all sell similar or apparently identical cotton buds much cheaper in the baby aisle than in the cosmetics section, as the figures below show:
Sainsbury's 300 baby cotton buds: 55p (18p per 100)
Sainsbury's 200 cosmetic buds: £1.50 (75p per 100)
Morrisons Nutmeg 200 cotton wool buds: 35p (17.5p per 100)
Morrisons pure 200 cotton buds: £1 (50p per 100)
Boots 200 baby cotton buds: 59p (29.5p per 100)
Boots 200 cosmetic cotton buds: £1.05 (52.5p per 100)
We've asked Sainsbury's, Morrisons and Boots if they have any plans to change their prices, and will update this story when we hear back.