How supermarkets hide cheaper items in the baby aisle
Supermarkets and pharmacies hide some of their best bargains in the quieter aisles, so we're on a march to uncover their tricks. This week, we're looking at the baby aisle.
MSE Update Mon 9 May 2022: While this blog was published a while ago, the principle still applies, and we've recently updated all the prices and examples below. A big success from our baby aisle investigation back in 2017 was Tesco, Sainsbury's and Waitrose dropped the price of cosmetic cotton buds as a result (see our news story).
You don't need to spend a pretty penny to look and feel, well, pretty. With costs of living ramping up the price of our weekly shop, switching the aisle where you stock up your beauty products could be a great way of keeping the pennies in check. Next time you need to replenish your beauty cupboard, skip the beauty aisle and make a beeline for the baby aisle.
From cotton buds to sponges – a host of beauty essentials can all be found here at significantly lower prices than similar or near-identical alternatives elsewhere in the same shop. We've found this pattern at major stores, including Tesco, Sainsbury's, Asda, Morrisons, Superdrug and Boots. Here's what we found…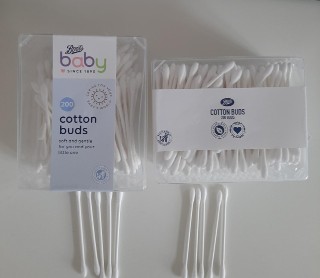 Upon further inspection, these two products were both made in Turkey, which could mean they came off the same Boots production line. One MSE staff member, who regularly uses cotton buds to remove make-up smudges put both the baby and beauty aisle equivalents to a blind test – she couldn't tell the difference between the two.

More seemingly identical products for less
After we found the cotton buds, we investigated and spotted a few more products that look identical to the pricier version sold elsewhere in the same shop. Pictured below are cotton wool balls from Superdrug. In the baby aisle (the image on the left), they cost 99p for 100, whereas in the beauty aisle (the image on the right), they cost £1.69 for 100. There may be small differences, but they are essentially the same thing.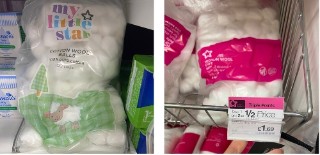 Another example is sponges. At Sainsbury's, we found a two pack of own-brand sponges in the baby aisle for 75p (38p each), while in the bath/shower section, we found another own brand sponge for 60p. Again, despite there being some distinctions between the two, such as the colour and shape, they essentially do the same thing. Having got both items out the packet to inspect the texture, they also felt pretty similar as well. The packaging reveals that both are produced in the UK for Sainsbury's, which could suggest they are made on the same production line, arguably narrowing the differences between the two even further.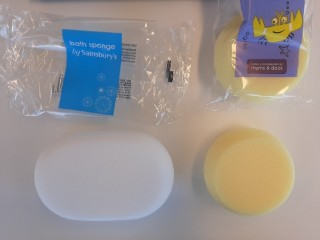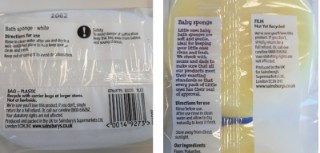 Here are some more examples:
Product (retailer)

Price

Baby aisle

Beauty aisle

Cotton wool balls (Boots)

£2 for 200 (£1 for 100)

£1.38 for 100

Cotton wool pads (Boots)

£1 for 100

£1.59 for 100

Cotton buds (Superdrug)

65p for 200

£1.09 for 200

Sponges (Sainsburys)

75p for two (37.5p for one)

60p for one
Similar products for much less
We've also seen a range of items that do the same job as their counterpart, but with very different prices in the same store. While these products might not be the same, many would be happy to swap out for a cheaper option which ultimately serves a similar function and use.
Staff at MSE swapped Boots Biodegradable Fragrance Free Cleansing Wipes* for its own-brand baby wipes*, both are biodegradable and fragrance-free, but you get more wipes for less money when choosing the baby version – 4p per wipe vs 1p per wipe. There are some small variations between the two – the baby wipes are made in Turkey, while the face wipes are made in the UK. We inspected the ingredients and although there are a few differences between the two, both contained the following: water, phenoxyethanol, glycerin, benzoic acid, cetearyl isononanoate, sodium cirate, dehydroacetic acid and citric acid.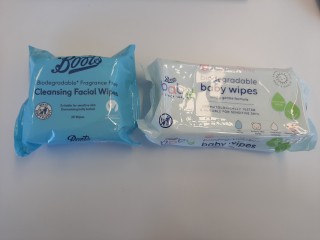 MSE users also pointed out that you can substitute dog poo bags or sanitary disposal bags for nappy bags, of course found in the baby aisle – the latter being a cheaper and more cost-effective option. In Morrisons, poo bags cost £1.65 for 75 (2.2p each), while the nappy sacks cost 29p for 100 (0.29p each), which works out 87% cheaper.
Here are some more examples we found below. We have kept to own brand, unless specified otherwise.
Product (shop we saw it in) and the small difference between the two items
Price

Baby aisle

Other aisle

Nappy sacks and poo bags (Sainsbury's) – different intended user

95p for 150 nappy sacks (3.2p per bag)

£1.60 for 50 dog poo bags (3.2p per bag)

Nappy sacks and poo bags (Morrisons) – different intended user

29p for 100 nappy sacks (0.29p per bag)

£1.65 for 75 dog poo bags (2.2p per bag)

Bath sponges (Asda) – slightly different textures

80p for two (

40p each)

£1.15 for two

(57.5p each)

Cotton wool pads (Tesco) – different shapes and made in different countries

£1.75 for 50

£1.85 for 50
Is the swap worth it?
For some items, such as the cotton buds, sponges and cotton wool, it's tricky to spot significant differences apart from the price. To us, they look and feel the same and are made in the same place for the same shop.
We approached Boots for a comment on the cotton buds price discrepancy, but it didn't get back to us. As for the sponges, a spokesperson from Sainsbury's said "the difference in price is down to a variety of factors, including the cost of production, raw materials used and end weights of the sponges".
Buying 'baby products' might not always be cheapest but there's no harm in checking that aisle first.
Aside from the baby section, there are other aisle swaps you can make to save yourself some cash in the supermarket. We've blogged around a number of other supermarket hacks, including buying in the world food aisle and how crouching down can save you cash.
Let us know what you've seen in the comments below or on Twitter @MSE_Deals.
While we've only picked a handful of examples, this seems to be a trend across many supermarkets and pharmacies that sell baby products. See our supermarket guide for loads more tricks.
Have your say
This is an open discussion but the comments do not represent the views of MSE. We want everyone to enjoy using our site but spam, bullying and offensive comments will not be tolerated. Posts may be deleted and repeat offenders blocked at our discretion. Please contact fbteam@moneysavingexpert.com if you wish to report any comments.
Update: We are aware that some users may currently be having issues seeing the comments and we're working on it.