The pound has dropped following yesterday's general election, as a hung Parliament causes uncertainty on the currency markets. And with summer holidays on the horizon, many are asking if they should be buying travel cash now.
Unfortunately, without a crystal ball we simply can't give you an answer. Currency rates fluctuate from minute to minute, and no one can say with certainty what's going to happen. But we can tell you the options to make sure you get the most for your money, and a trick to hedge your bets against any further currency swings.
MoneySavingExpert.com founder Martin Lewis says: "In terms of what this means financially, uncertainty is never good. The markets don't like it, and the markets generally are right-wing, so they won't like this. We're likely to see a short-term, at least, drop in the pound.
"In terms of buying your currency, the same rules apply as always. I'm a big fan of getting a specialist overseas credit card such as Halifax Clarity or the Creation Everyday – make sure of course that you repay it IN FULL – or a top prepaid card like Revolut or Monzo.
"If you want to buy currency there are ways to do it, such as both Travelex and Moneycorp allow you to pre-order currency at no charge for pick-up within 14 days. If you did that now and the rate moves against you then you've locked in today's rate, and if the rate moves in your favour you can always cancel it at no cost and get a new deal on a new day."
Watch Martin's full initial reaction to the election result and see our 18 cheapest ways to get travel money guide for full help.
What happened to the pound after the election results were announced?
The pound plummeted against other currencies as soon as the exit poll was announced last night, and at the close of trading on Friday, it had fallen by more than 1% against the euro and the dollar, to €1.13 and $1.27.
To put this in perspective, over the past 12 months a pound has been worth between €1.10 and €1.30 (see chart below), and $1.20 and $1.49. So while rates have fallen, we've seen much lower over the last year.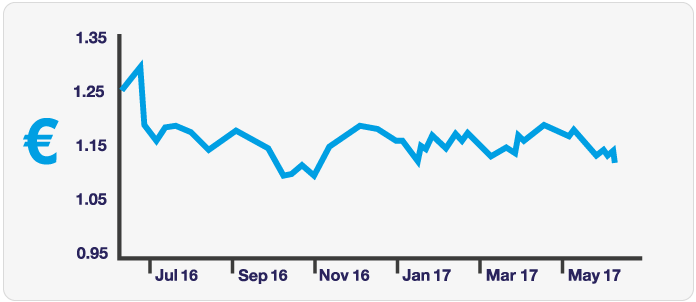 Of course, this could all change. While some try to guess which way exchange rates will go, many factors are in play and it's impossible to say for sure. For many, it's best to simply focus on getting the best rate when you go – but if you're worried about further currency swings, there are things you can do to mitigate the risk.
Nervous about currency swings? Hedge your bets
Basically this means you buy roughly half of what you need at today's best rate, and then the rest when you're due to travel – making sure you get the best rate available at the time (for how to do this, see below).
If you're really nervous, ask yourself, "Would I be content with today's rate of €1.13 for my holiday money...?" If so and your real fear is that the rate could get worse and make your holiday unaffordable, play safe and buy more than half now.
Yet there's a downside to this too, as the pound may strengthen. The key thing is, you can't know for sure – so if you'd have been better off waiting, don't let bitterness with the benefit of hindsight ruin your holiday.

A trick to protect against currency swings in the short term
While they may not offer the best rates on the market, a few bureaux de change's terms can be manipulated to give you short-term protection against currency swings.

Essentially you order for collection at today's rate, and cancel in up to 14 days' time. This means:
If the rate gets worse, you're up as you got it at today's rate.
If the rate gets better, you cancel and buy at the new rate.
Originally this trick used to offer much more protection as bureaux allowed you to reserve up to 60 days ahead, but the time limit has been slashed. Still, you can at least protect yourself against huge currency changes in the next two weeks.
Remember to use one of the big brands as they're holding your cash with little protection. See our Travel Money guide for all the details, including the top three bureaux for this trick.
How to get the best rates
Here we cover how to get the best rates on credit cards, prepaid cards and cash:
Take two minutes to get near-perfect rates worldwide, every time you're away. The easy option is to get a specialist overseas credit card, which you religiously pay off IN FULL every month (or you pay up to 34.9% APR interest).

These cards give you the same near-perfect exchange rates the banks get on the day you spend, in almost every country, time and time again, as they don't charge a 3% 'non-sterling exchange fee', which most other credit and debit cards do.

Use our Overseas Cards Eligibility Checker to see your acceptance odds for most of the top cards (if you've a decent chance of all of them, Mastercards tend to give better rates than Visas.)

Our current top picks are the Halifax Clarity and Barclaycard Platinum Travel Credit Card.

Some of the cards can add a cash withdrawal fee, and you may pay interest on cash withdrawals (not spending) even if you fully clear the card. Yet even then they beat most bureaux de change. For more details see Top Travel Cards.
Top prepaid cards give you today's top rate, and are easy to get. Unlike credit cards, you usually load prepaid cards with cash before you travel, at that day's rate, so it's a way of locking in a rate for the longer term. Plus there's no credit check to get them.

Bear in mind, though, that if the pound strengthens by the time you go on holiday, you lose – if it weakens, you gain. For full options, top picks and analysis, see Top Prepaid Cards.
Want today's best cash rate? Compare rates from 30+ bureaux. If you want cash, of course you get the rate on the day you pay. Remember to ignore any claims like 'commission-free'. You need to know, "If I give you £500, how many euros will you give me after all charges?" and then compare the totals.

You can use our TravelMoneyMax tool, which compares about 30 online bureaux and tells you how much you'll get after all fees and charges. It also shows you how extortionate it is to change at airports or ferry ports. If you must do that, at least pre-order for pick-up, as you get a better deal.

And beware paying for currency at UK bureaux by credit card, as this counts as a cash withdrawal, so there's a fee and interest even if you fully repay – so it's best to pay with a debit card or cash.