A hen party has hit out at Ryanair's controversial 'random seat allocation' policy after the budget airline seated the 15 passengers in the group in 15 separate rows.
The group, due to fly from Birmingham to Ibiza on Thursday (22 June), had decided not to pay an extra fee to choose where to sit. But they were furious to discover when checking in four days before the flight that they had been assigned seats spanning most of the length of the aircraft, with two of them put 27 rows apart.
It follows numerous passengers accusing Ryanair of routinely allocating groups of travellers seats in different rows in a bid to force them to pay to sit together, with some claiming the budget airline has changed its seating policy.
Ryanair insists there has been no change of policy. However, since our Fury as Ryanair seats passengers 'rows apart' MSE News story we've heard dozens of similar complaints.
See our 20 Ryanair Tips for ways to save when flying with the budget airline.
'Every single person is in a middle seat – I couldn't believe it'
Friends Steph Vickers and Faye Cutler, who are celebrating their joint hen-do, told MoneySavingExpert.com they booked the group's tickets at the same time, back in October, with each return flight costing £220.
The pair, who will be each other's maid of honour, are due to marry in August and September and were expecting at least some of their party to be sat close together.
Steph, 32, from Birmingham, said: "They've put every single person in a middle seat in different rows... I never ever pay to sit next to people, I just look as soon as check-in opens... I couldn't believe it.
"I just thought it was really disgusting how much they expect you to pay, on top of what you've already paid, just to sit next to somebody. It's unacceptable really.
"It breaks down the mood a bit and just means we will be disruptive to other people... we'll be saying 'Are you OK back there?' and getting out of our seats."
Steph says she has lodged an official complaint.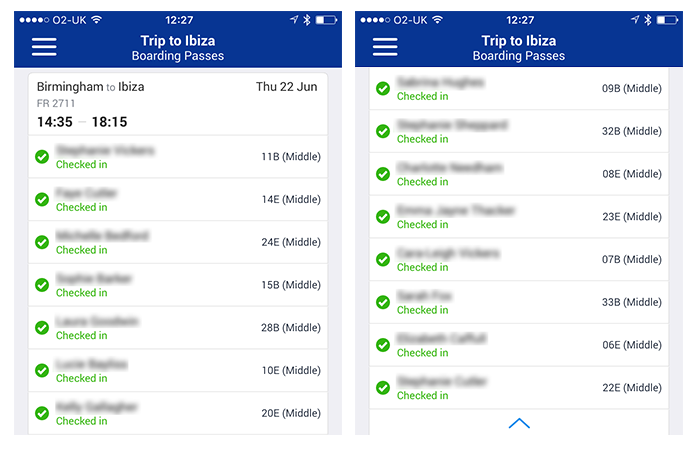 Since we first ran our story about complaints over Ryanair's seating allocation at the beginning of June, we've had plenty of other comments, emails and tweets from annoyed passengers. Here are just a few:
Some passengers have defended the airline, however, saying it offers cheap travel and punctuality.
If you pay £2+ for a seat you can check in 60 days ahead – go quick to find the cheapest
Unfortunately if you want to guarantee your party sits together, you'll need to pay. Paid-for seat check-in now opens 60 days before you fly, and Ryanair says prices remain the same throughout the 60 days – so if you're willing to pay, checking in as soon as possible means you'll have the most chance of bagging the cheapest seats.
Ryanair's confirmed the following costs for most flights by row (on some longer flights, for example to the Canary Islands, it may be more):
Rows 1, 2 (seats DEF), 16 and 17 are priority with extra legroom and priority boarding. They cost £11+.
Rows 2 (seats ABC) to 5 are priority boarding seats. They cost £7+.
Rows 6 to 15 and 18 to 33 are standard seats. They cost £2+.
If you're not willing to pay, check-in opens four days before your flight.
Flying with kids? You MUST pay for an allocated seat
Since October 2016 Ryanair has made it compulsory for at least one adult in a party which includes children under 12 to pay £4 for a seat reservation. You'll then be able to choose nearby free reserved seats for your children (up to a max of four).
Check-in for these seats also opens 60 days in advance, and you can choose seats in rows 18 to 30 or pay more if you want to sit in other rows. If you have more than one adult in your party, they'll also have to pay for their own seat reservation to sit with the group.
What Ryanair says
A Ryanair spokesperson said there had been "no change" in Ryanair's seating policy.
They said: "Customers who do not wish to purchase a seat are randomly allocated a seat, free of charge. This has been our policy since the introduction of allocated seating in February 2014."
The spokesperson added that the airline is now carrying more customers – saying, for example, its May traffic alone rose by 11% – and so there are fewer seats to allocate randomly.
"Therefore we advise customers who wish to sit with their travelling companions to purchase allocated seats," they said.