A MoneySaver has told how she bought a whopping £60 of shopping for just £2.55, in one of the best examples we've seen of extreme grocery MoneySaving.
Lisa Parry's latest haul of 'whoopsie' yellow-sticker bargains from Asda - that's items which have been reduced to clear - included giant pancakes, an Extra Special quiche lorraine, fishcakes, beef burgers and pies. She's made similar savings at other supermarkets too.
The bargain hunter from Cardiff estimates the food will make her a week of breakfasts and lunches and two or three weeks of dinners – and she's credited her thrifty habit with having changed her life.
We've been talking about yellow-sticker discounts for years, but this is one of the best examples we've seen (though Lisa herself says she's bettered it in the past). Here's how she did it this time - see our Supermarket Shopping Tips guide for tips on how you can slash your grocery bills.
Watch Lisa's video to see what she got
Lisa, who's appeared on The Martin Lewis Money Show, showcased her £2.55 shop in a video which she tweeted to MoneySavingExpert.com founder Martin Lewis.
She told us: "This was a very good shop, I worked out it was £60 of food.
"It was amazing. I get such a buzz, it was really good and I am really proud of myself. I'll probably have to miss a week [of shopping] as my freezer is a chock-a-block."
Lisa, 43, who first started hitting the reduced aisle about four years ago, said: "It's the biggest thing that's changed my life, it has totally changed my life financially.
"I save so much money. I am saving money each month whereas before I did this I wasn't saving money and was struggling to make ends meet. I used to spend about £40 per week on shopping and now it's a few pounds."
Here's the receipt Lisa ended up with: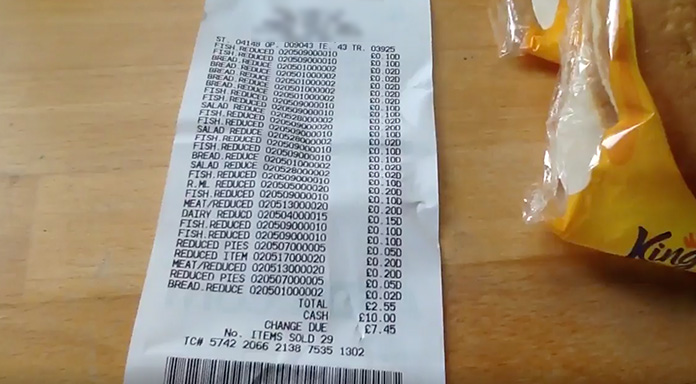 Top tips to bag the best yellow-sticker discounts
Lisa, who works full-time, told us her tips for bagging the best 'reduced to clear' bargains (you can see our tips plus lots more way to save on your groceries in our Cheap Supermarket Shopping Tips guide):
Work out the best time to go. Lisa says this is usually between 8pm and 9pm for 24-hour stores, and half an hour before closing for others. See our Supermarket reductions schedule for more info.
Be flexible. She tries to pop to different shops at different times of the day.
Be confident. Lisa says she gets stuck in as there can be a lot of people at the reduced-to-clear section.
Don't waste food. She adds that she only buys food she will be able to eat or freeze for a later date, saying that wasted food is a pet hate for her.
Food prep can be key. Lisa says batch cooking can often help. For example, she used her 22p mince to make up nine portions of chilli. The entire dish cost £1.80, so just 20p per portion. She has also used 4p bags of carrots and 2p bags of coriander to make up batches of soup.
She added it's important people remember there will be items, such as chopped tomatoes or household essentials, that you can't get in the reduced aisle – but the overall savings mean she feels less guilty buying a few treats.
Lisa, who has become well known for bargain hunting at work, joked that colleagues even bring her in freebies. She said: "People know I love free stuff and bargains, I've got a bit of a reputation."