Travel website Booking.com has advertised the same hotel as a three-star and a four-star as part of an experiment that has seen it listing different prices depending on which option customers picked.
The hotel bookings site admitted advertising the Hudson Hotel, near Central Park in New York, as a three-star and four-star under slightly different names, but with as much as a £5 difference per night, as part of a test looking at how star ratings affect bookings.
The website's declined to say how many customers could have been charged more as a result, and how long the trial had been running (see below for what to do if you think you've been overcharged).
'It seems very unfair people are being tested'
MoneySavingExpert.com investigated the issue after being contacted by Jen, who spotted the anomaly.
She'd contacted Booking.com and received an email saying: "Thank you for contacting the Booking.com team and carefully searching our website!
"This hotel is currently part of a test looking at how different star ratings affect guest bookings and guest experiences. It is the same hotel, you are correct. The different prices reflect the different star rating they are listed with.
"If you wish to make a booking, please choose the one which suits your needs better. You will pay the price it says on your confirmation email."
Jen said: "It seems very unfair that people are being tested and as a result are paying over the odds unknowingly."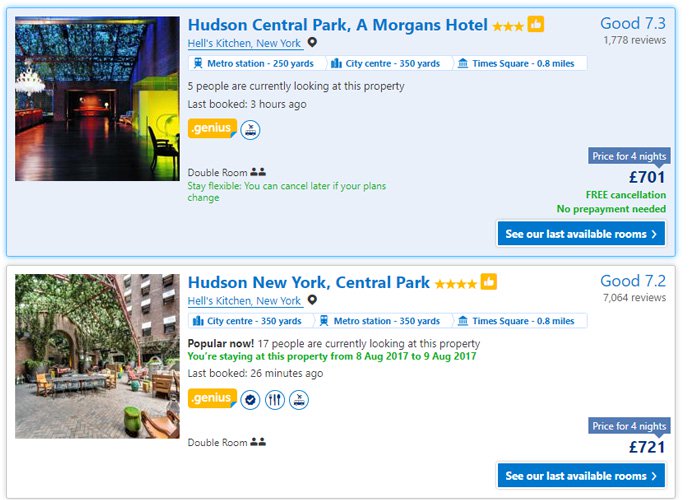 We were able to replicate the anomaly, as shown in the picture above, and found we would've been charged £20 more for four nights booking the four-star option over the three-star, which also included free cancellation.
Interestingly, the test resulted in the four-star listing having a lower review score than the three-star hotel. And the initial result on the search page also suggested the three-star option was closer to the metro station than the four-star (though only by 100 yards), despite both results giving the hotel's address as 358 West 58th Street in Hell's Kitchen.
What does Booking.com and the hotel say?
When we put our findings to Booking.com, it said: "At Booking.com, we are constantly optimising how we surface and display information on our site in order to empower customers to find the stay that's just right for them as quickly and easily as possible.
"In this case, for a very limited period of time, we ran an experiment at the request of one of our hotel partners to help them understand how best to market their property in order to best meet guests' expectations. As always, if our customers ever have a question about a listing on our site, they can always reach out to our customer service team 24/7 for support and assistance."
It said the test was a one-off for one hotel only, but declined to say how long the trial had been running and how many customers had been affected. It now says there's just one listing for this hotel – the four-star option.
If you think you've overpaid, you can contact Booking.com's customer service team.
A spokesperson for the Morgans Hotel Group, which owns the hotel, said: "We undertook a trial with Booking.com, testing different star ratings for the Hudson Hotel, New York City. However, it was only the star ratings that were changed not different prices and both pages should have been the same.
"If there was a disparity then it was likely only for a short period due to a potential delay as the pages were updated. We apologise for any inconvenience that may have been caused and have taken one of the pages down to ensure there is no confusion. At all our hotels we strive to give the best possible experience for the best possible price."
How do star ratings work?
There's no universal worldwide standard for ratings, and they can be set by review organisations or even the hotel itself, so take them with a pinch of salt.
There are, however, rules in the UK around how companies operate and influence the decisions customers make.
We contacted the Advertising Standards Authority about the issue, which advised it could not take action as Booking.com is based in the Netherlands.
A spokesperson said: "More generally, we accept that businesses can award star ratings according to their own criteria, but that should of course be in line with consumers' understanding. So it could potentially be confusing for a hotel to be listed as both a three-star and four-star destination.
"With regards to pricing information, it's possible that a consumer who booked a four-star room could feel misled if they considered they were getting something superior having paid more than a customer who booked the same room at a three-star rating.
"This kind of issue (if it was in [our] remit – which it isn't in this instance) could be considered under our general rules on 'misleadingness'."